Sports website slammed for tweet mocking Flint water crisis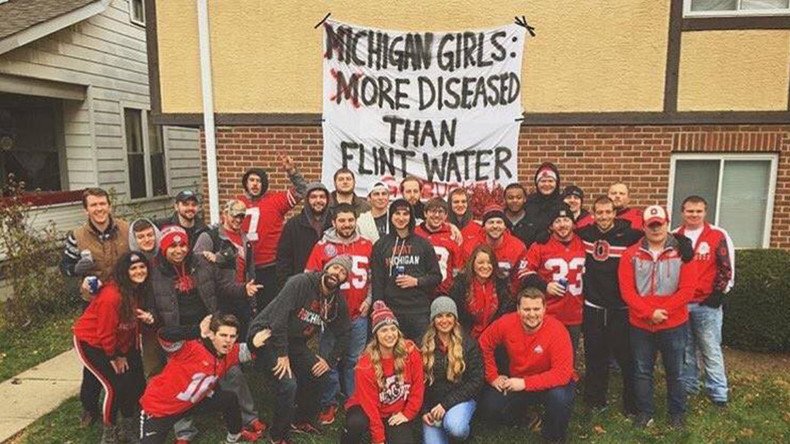 A sports website is under fire after it tweeted an image comparing women in Michigan to "diseased" water in Flint.
The Barstool Sports Ohio State University Twitter account posted the image on Saturday in support of the university's football team, who played University of Michigan that day. It shows a group of fans with a banner reading, "Michigan Girls: More Diseased Than Flint Water." The tweet reads, "Truth."
Social media users were quick to criticize the account for sharing the photo, calling it sexist and inappropriate.
Flint has suffered a water crisis since April 2014 when its water supply was switched to Flint river water to save money, leaving the town with contaminated water as pipes leaked lead into the supply.
After discovering the water was contaminated, officials chose to cover it up and continued to allow its residents to consume the water. Residents have been exposed to lead poisoning and cases of Legionnaires' Disease have increased.
Others informed the account that the Flint Michigan water is not diseased, but contaminated by lead.
People found the banner to be lacking empathy and in poor taste, given the people of Flint's long struggle with undrinkable water.
For some, the disparaging claim that women in Michigan are diseased was the most offending element of the tweet.
Two people pointed out that in fact, STD rates in Ohio were higher than in Michigan.
A lot of commenters called for the tweet to be deleted, but their requests have gone unheeded.
The Barstool Sports website has not yet commented on the issue.
You can share this story on social media: