Not the plaice for it: Frosty reception for 5,000 fish frozen into Japanese ice-rink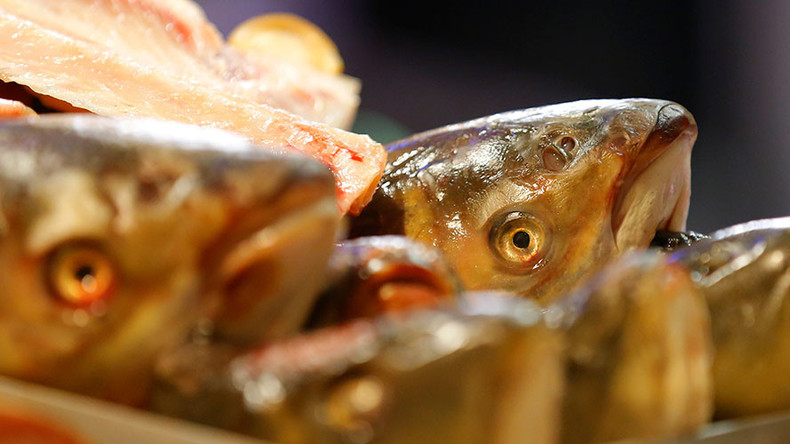 Fish were served on ice at a Japanese theme park which claimed to have a "world first" of 5,000 sea creatures frozen into its ice-rink.
The dead fish were frozen into the ground as part of the aptly-named 'Freezing Port' at the Space World theme park in Kitakyushu City. All the fish were real, although dead, before being frozen, the manager, Toshimi Takeda, told CNN, claiming they were bought from a local fish market.
"Many of these fish don't meet standards for selling to customers. And the big fish like whale sharks, sharks, and rays aren't real, they're simply photos that were blown up and embedded in the ice," he said.
Space World claim they wanted people to interact and learn from the sea creatures, which have reportedly been seeping blood into the ice.
The innovative idea was publicized online by the park with images of the frozen fish in the ice, some only partially submerged. "I am d... d... drowning, s ... s... suffocating," read the park's caption for one of the images.
They soon disappeared after a tirade of negative reactions. "You have no soul to plan such an event to begin with," one commenter reportedly said before the images disappeared.
'Freezing Port' closed on Sunday due to the outrage, spurred on by negative reaction to a local news report on the rink. Space World "deeply apologized" in a tweet reporting the closure.
「氷の水族館」について不快に思われた皆様に深くお詫び申し上げます。
「氷の水族館」の企画は中止させていただきます。

— スペースワールド【公式】 (@SpaceWorld_info) November 27, 2016
Takeda claimed that before the outrage the rink was doing healthy business but it will now be unfrozen, allowing for the fish to be removed before an "appropriate religious service" takes place for them.