Topless FEMEN protester fights Ukraine-EU 'obstacles' by attacking Berlin Wall (VIDEO)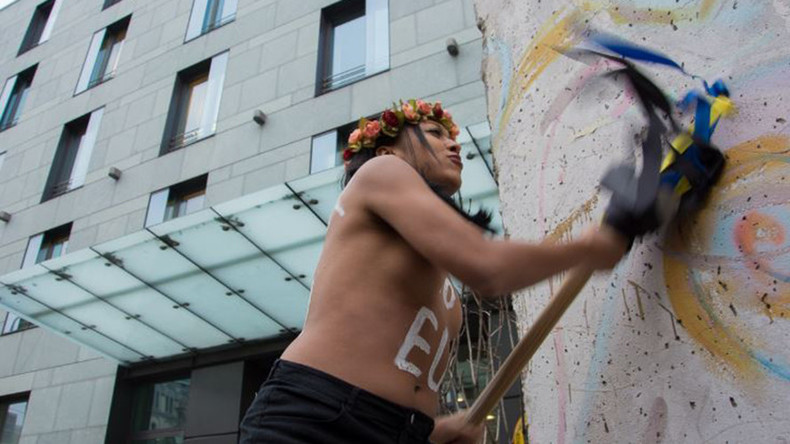 A topless activist has attacked part of the Berlin Wall on display in Ukraine in a protest over barriers to Ukraine's "European future," swinging a large sledgehammer at the historic wall which once divided Germany.
Part of a call by feminist group FEMEN for visa-free European travel for Ukrainians, the one-woman demonstration was held outside the German Embassy in Ukraine's capital, Kiev, on Thursday.
Video of the protest shows a partially naked woman, with the words "Ukraine to EU" and "Break the Wall" painted on her torso, striking out against the concrete border wall.
As she hits the wall, the woman repeatedly shouts: "Break the wall!"
The protest came on the same day EU member states agreed to allow visa-free travel to and from Ukraine for a period of "90 days in any 180-day period" and promised extra financial support to fight corruption in the nation.
A statement by FEMEN said the activist was fighting against the "ephemeral rise of the walls on the way to a democratic Ukraine's European future."
The group continued: "FEMEN movement has always supported the European democratic values in Ukraine... we decided to once again remind the world that Ukraine – this is Europe."