Nazi symbolism in Christmas ad finds German retailer Edeka crying 'coincidence'
Published time: 25 Nov, 2016 11:06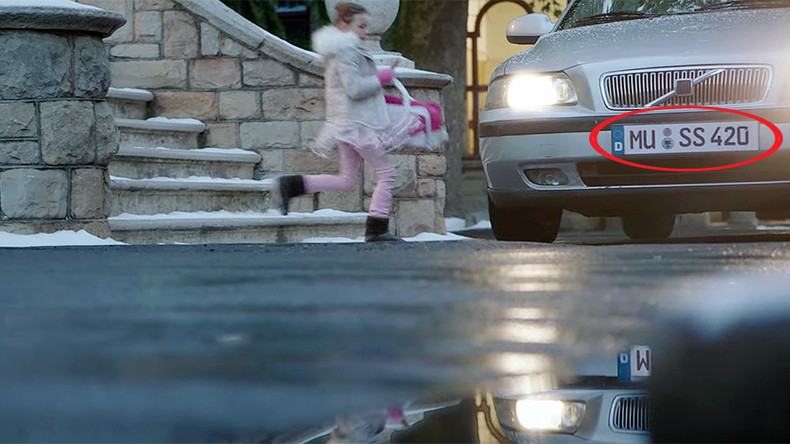 Giant German retailer Edeka is in defense mode after being accused of advocating Nazi propaganda in a viral Christmas ad. The video purportedly features number plates with covert Nazi symbols, including a cipher for Adolf Hitler's birthday.
The commercial, which has garnered over 7 million views in one week, revolves around a pair of stressed adults, overloaded with endless Christmas preparations and no time for family and kids.
"There's still something to be done, something still needs to be done, something still needs to be done, there's still much more…" a female voice in the 90-second commercial says. Bake the best cookies, buy Christmas decorations, put the winter tires on …The 'to-do list' is almost endless.
A sad-looking girl, sitting on the stairs outside school, is hopelessly waiting for her mother to pick her up. She is late, busy buying tons of gifts.
Yet, when a silver Volvo finally arrives, we get to see its ill-fated number plate: 'MU SS 420'.
The use of 'SS' is forbidden in Germany because it is synonymous with the Schutzstaffel (Protective Echelon) one of the most powerful and notorious organizations in Nazi Germany.
The number 420 can be read as 'Four-Twenty', Adolf Hitler's birthday (20 April), the Sueddeutsche Zeitung reports.
To make things even worse, the other car in the ad (the one that needs winter tires) also features a tricky number plate: 'SO LL 3849'.
The 84 is known as an abbreviation for the eighth and fourth letters of the alphabet (H and D), commonly used in far-right circles for the greeting 'Heil Deutschland', the newspaper notes.
The numbers 3 and 9, meanwhile, stand for the letters C and I, which are said to symbolize 'Christian Identity' ideology popular in extreme right-wing circles.
Sabine Bamberger-Stemmann, director of Hamburg's center for political education, said there is no way that the Nazi symbolism was featured in the ad by accident.
"I do not believe it's a faux pas, as some people have suggested on the internet. Given the quantity of far-right radical codes accumulated [in the ad], this is trivial and implausible," she told Manager Magazin on Wednesday.
The Hamburg-based Edeka has meanwhile rejected the embarrassing Nazi propaganda allegations.
"The number plate with 'MU SS' is a fantasy number plate, based on the title song in our spot. We regret it if a wrong impression was created here. This was in no way our intention," Edeka spokesman Gernot Kasel said, as quoted by Der Tagesspiegel.
Users of social media have been up in arms over the alleged Nazi ciphers in the Edeka clip, saying the allegations are absurd and further demonstrate how "crazy" Germany has become.
"German! Keep your social network clean! The enemy is reading! Numbers everywhere!" one person tweeted.