LA shop owner fights off gun-wielding robber (VIDEO)
Published time: 24 Nov, 2016 02:41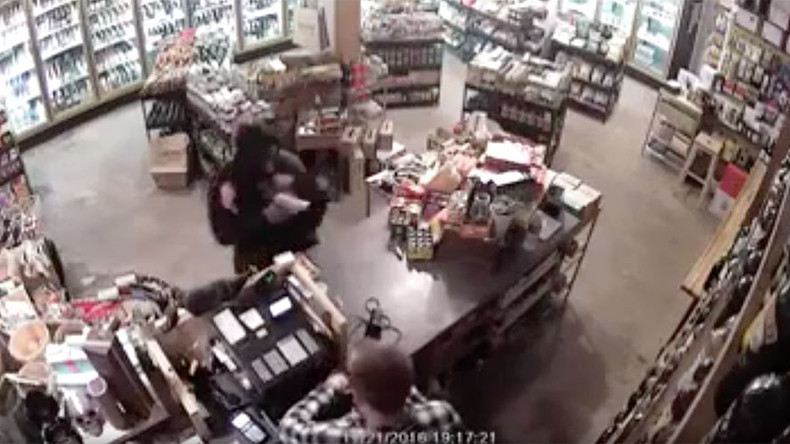 The shocking moment a Los Angeles convenience store owner wrestled with an armed robber over a firearm was caught on CCTV.
The struggle unfolded Monday night near Santa Monica when a man shielding his face, carrying a gun, entered Simons Market demanding money, reported KTLA.
However, as the cashier moved to take money from the till, the shop owner took matters into his own hands and grabbed the wannabe thief from behind and pushed him out the door. Surveillance video shows that in a matter of seconds the store owner was able to smash the armed robber into a side window before heaving him out onto the street.
As the pair continued to grapple beside moving traffic, the owner then attempted to grab the weapon from the raider before he ran off into the darkness.
"I couldn't get him to the ground, and he pulled another gun out. I wasn't happy about that," shop owner, Simon Mellor told KABC. "Neither of us were happy at that point. He ran, and I was like, 'Okay, he's got two, I'm not running after him. Let's call it a day."
Amazingly, no one was reported hurt in the incident, with Mellor telling reporters he bears the would-be robber no ill will.
"I just want him to be a better person," Mellor said.