Have-it-away-day: Italian hotels offer free rooms if you conceive during your stay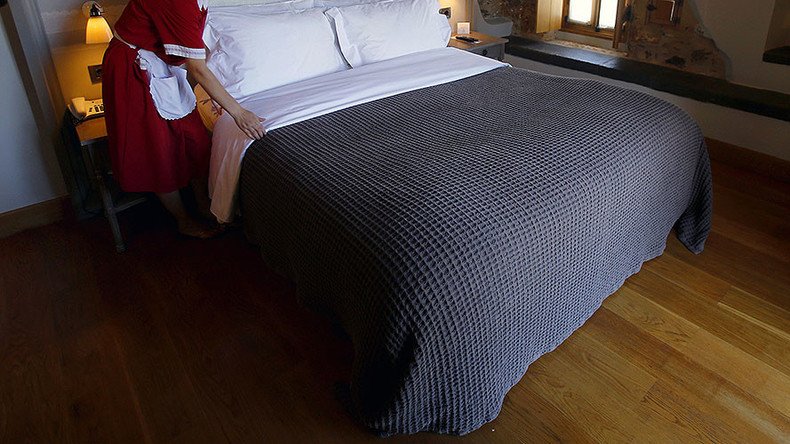 If you're looking for a romantic getaway, a number of Italian hotels are offering free accommodation to potential visitors, although there is a catch – you have to conceive a baby while staying there.
In an attempt to boost the country's low birth rate, 10 hotels in the town of Assisi in central Italy launched the "Fertility Room" campaign on Friday, offering either reimbursement to those who get pregnant during their holidays or a second night's accommodation free of charge.
Utilizing the campaign slogan "Venite ad Assisi. Insieme!" (Come to Assisi. Together!), those who take up the offer will have to show a birth certificate which proves that nine months before (plus or minus 10 days) the baby was conceived at the hotel.
The initiative was reportedly developed by Eugenio Guarducci, a local tourism councilor, who hopes it will promote the historic town while also raising awareness of Italy's low fertility rate.
"The low birth rate in our country is one of the most significant problems that society will have to face in the coming years," a campaign statement says. "Giving birth to a child is a profound gesture of love, which should be encouraged despite the many difficulties of life."
Not everyone is keen on the idea, however, with local authorities distancing themselves from the campaign, which is scheduled to run until March 31, 2017.
Claudio Ricci, an Umbria regional councilor and former mayor of Assisi, said that the region will investigate whether such a campaign is "fitting for the public image of Assisi and the promotion of the region."
"The perceived atmosphere of the brand 'Fertility Room' seems more relevant to Paris or [the Italian resort of] Rimini," he added.
With only 8 babies born for every 1,000 residents in 2015, according to Eurostat, Italy is facing what has been described as a demographic "apocalypse."
"If we carry on as we are and fail to reverse the trend, there will be fewer than 350,000 births a year in 10 years' time, 40 percent less than in 2010 – an apocalypse," Health Minister Beatrice Lorenzin told The Local in May.
Italian women give birth to 1.39 children on average, which is compared to the 1.58 average across the EU, Elisabetta Addis, an economist and demographics expert at the University of Sassari, told the outlet.
You can share this story on social media: