RT shoots unique 360 video of MiG jet penetrating stratosphere at 2,000kph (EXCLUSIVE)
Published time: 18 Nov, 2016 06:54
Edited time: 15 May, 2017 15:48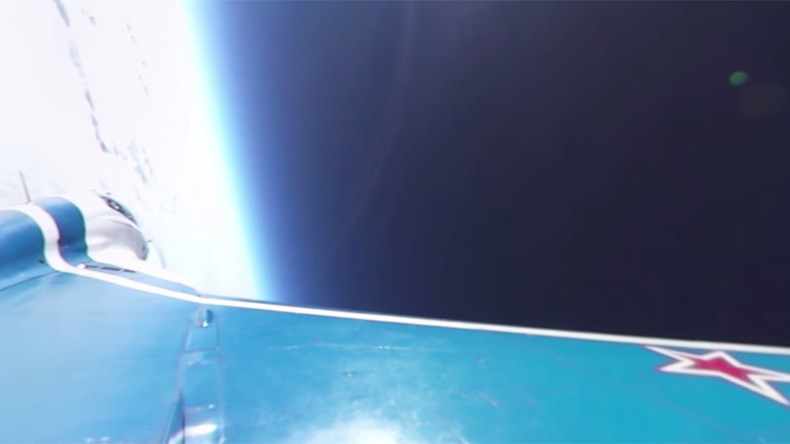 A Russian MiG-29 jet's flight straight into the second layer of Earth's atmosphere at hair-raising speed has been captured on a panoramic camera, providing one of a kind footage that is certain to send shivers down your spine.
For the pilots of MiG-29 twin-engine fighter jets capable of flying at speeds up to 2,400 kilometers per hour, reaching the stratosphere in almost no time – less than two minutes – is no big deal
However, now, equipped with a 360 camera protected by a temperature and pressure resistant case, one of those aircraft is providing those of us on the ground with a chance to feel what it's like to fly over the blue planet at a height of more than 18,000 meters (59,000 feet).
The video, a joint project of RT and Aviation Extreme Video, was shot by a panoramic camera, meaning you can rotate and tilt it all you want to catch every small detail on this incredible trip and get the most out of the experience.
The most intriguing part comes at the end when the MiG showcases some of its stunts, turning upside down to provide an even better view of the cotton clouds and sun.
The stratosphere, which is the second layer in Earth's atmosphere, extends to an altitude of 50 kilometers (31 miles). The temperatures within it are lower at the bottom and higher at the top, about −3° C (26.6° F).
RT viewers recently had an opportunity to take in a panoramic view from another Russian military venue.
Helicopters and warships taking part in joint Russia-China military drills in the South China Sea called "Joint Sea 2016" were videoed back in September, giving viewers a glimpse of a total of 18 ships and supply vessels, 21 aircraft, and over 250 service personnel.