Pope questioned by cardinals on easing attitude to divorcees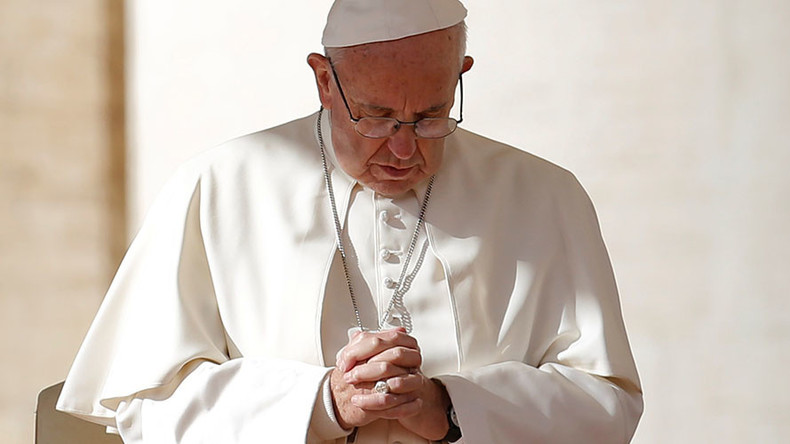 A letter signed by four cardinals in which they question Pope Francis on rules concerning the issuing of sacraments to remarried divorcees has been made public. The decision to go public with the letter was made after the Pope failed to respond for two months.
In the letter, the cardinals ask Pope Francis to "resolve those doubts which are the cause of disorientation and confusion" in relation to a document titled "Amoris Laetitia" (The Joy of Love) published by the Pope in April. The Pope calls for the church to be more accepting of "imperfect members" saying that "no one can be condemned forever" in the document.
In Amoris Laetitia, the Pope says priests and bishops should decide on a case-by-case basis if someone who has divorced and remarried can be reintegrated into the Catholic church and receive communion.
This stance contrasts with Church law, in which they cannot receive communion unless they abstain from sexual relations with their new partners as their first marriage is still valid in the eyes of the Church. The individual in this case would be committing the sin of adultery under Church teachings.
Originally sent to the Pope on September 19, the letter asks him five questions in an attempt by its authors they claim to "resolve the uncertainties and bring clarity." The cardinals claim to "have received numerous requests from the faithful of various social strata on the correct interpretation" of Amoris Laetitia.
The five questions are referred to as "Doubts" in the letter, signed by cardinals Walter Brandmuller and Joachim Meisner from Germany, Carlo Caffarra from Italy and Raymond Leo Burke from the US.
Our teaching on marriage and the family cannot fail to be inspired by the message of love and tenderness.

— Pope Francis (@Pontifex) April 9, 2016
One question asks for clarification on whether the remarried individuals must abstain from sex in order to receive the sacrament, as stated by Pope John Paul II's apostolic exhortation Familiaris Consortio.
An affirmative answer would not mean that divorce dissolves the marriage bond but it would mean that those not married "can under certain circumstances legitimately engage in acts of sexual intimacy" according to the cardinals.
The questions also ask if the teachings of John Paul II should still be regarded as valid given Amoris Laetitia.
In June, a letter was sent to the Pope signed by 45 Catholic scholars, appealing to him to fix errors in Amoris Laetitia they claimed contained "a number of statements that can be understood in a sense that is contrary to Catholic faith and morals."
You can share this story on social media: