Video of transgender woman being whipped goes viral, Pakistani gang arrested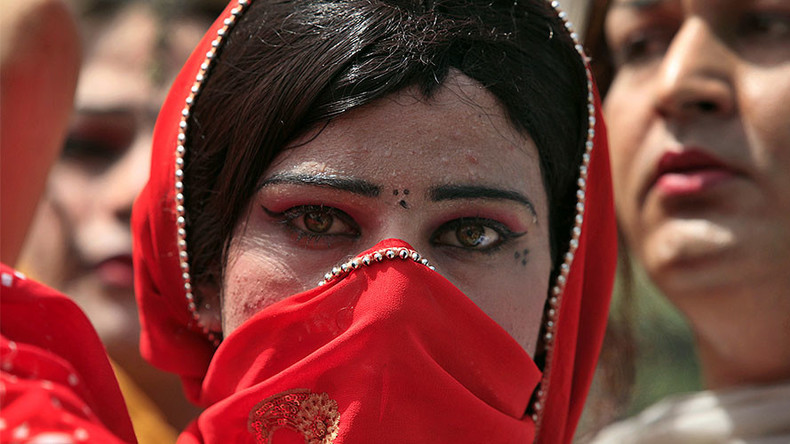 Police arrested at least five men in the Pakistani city of Sialkot after a video emerged of a gang leader whipping a transgender woman because she reportedly refused to pay extortion money.
Transgender Torture Video: 5 men arrested including the main culprit seen in the video #Sialkot

— Mansoor Ali Khan (@_Mansoor_Ali) November 13, 2016
The graphic footage, which went viral, showed the victim being held down and repeatedly whipped as she cried out in pain.
The culprit, Jajja Butt, was later arrested, according to local media.
Butt, along with other gang members, have reportedly been heavily involved in violently harassing Sialkot's transgender community for extortion money in the past.
Transgender beaten badly in Sialkot. matter must be inquired on priority basis nd delinquents immediatelly be punished. #inhuman

— Qasim Khan Suri (@QasimKhanSuri) November 13, 2016
The gang member, however, had a different version of events and alleged it was a private matter between him and the victim, according to the Express Tribune.
"She was my lover but was physically involved with other men," he said from his jail cell, bizarrely adding that he was happy the video would help end violence in the transgender community.
READ MORE: Pakistani Muslim clerics say transgender people can marry, shouldn't be harassed
The victim, known as Julie, didn't agree with this timeline, however. In a tearful interview she said the transgender women in the house were gang raped and tortured all night.
"They beat us all night and what they did to us is so awful. It was so awful that if it ever happened to one of your children, it would break you," Julie said.
"All night, they made us drink urine and spat on us and kept beating our heads with their shoes," she added.
The victim urged Pakistan's government to do more to protect the country's transgender communities who are often discriminated against.
In May, a popular transgender activist died after being shot in Peshawar. Staff at the Lady Reading Hospital were accused of failing to give the woman, known locally as Alisha, any treatment.
In a Facebook post, transgender rights group Trans Action Khyber Pakhtunkhwa called on the government and police to protect their communities following the recent attack.