'Hang yourself by your headscarf': US student pens anonymous note to Muslim teacher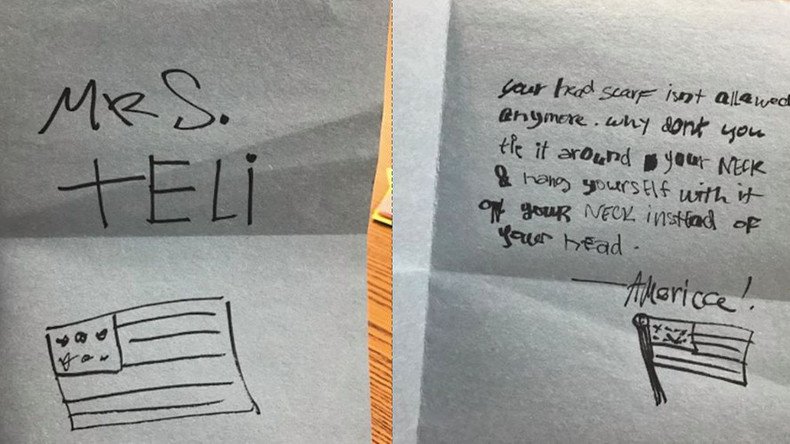 A teacher in the US State of Georgia received a chilling note from one of her high school students telling her to hang herself by her headscarf.
"Your headscarf isn't allowed anymore," the note read. "Why don't you tie it around your neck and hang yourself with it off of your neck instead of your head."
The anonymous note was signed "America" and featured two US flags, but the student who sent it has not yet been identified.
Mairah Teli, a 24-year old language arts teacher, shared a photo of the note along with her reaction on Facebook.
"I'm a high school teacher and sadly this anonymous note was put in my classroom today. As a Muslim, I wear a headscarf as a practice of my faith," she said. "I want to share this to raise awareness about the reality and climate of our community. Spreading hate isn't going to 'make America great again.' #DonaldsAmerica #NotIntimidated #HereToStay#LoveTrumpsHate."
"Remember that there are MORE people that appreciate our diversity," a commenter said under her post. "We will stand with you. The person who sent this needs mental health help."
Teli followed up with another post, expressing her gratitude for the support she received. "I can't even begin to articulate how touched I am to be receiving messages from all over the country with your support. I want to sincerely thank you for your kind words and well wishes."
"I feel your support affirms that our country is built on morals of compassion and kindness."
Teli commended Dacula High School for dealing with the issue. "They have voiced anger and have been tirelessly working to identify who sent this note," she said.
The note is the latest in a spate of reports of racism, Islamophobia and threatening behavior in the aftermath of the US election.
You can share this story on social media: