Burglar flees with arrow in buttocks after Australian pensioner shoots intruder with bow
Published time: 7 Nov, 2016 23:17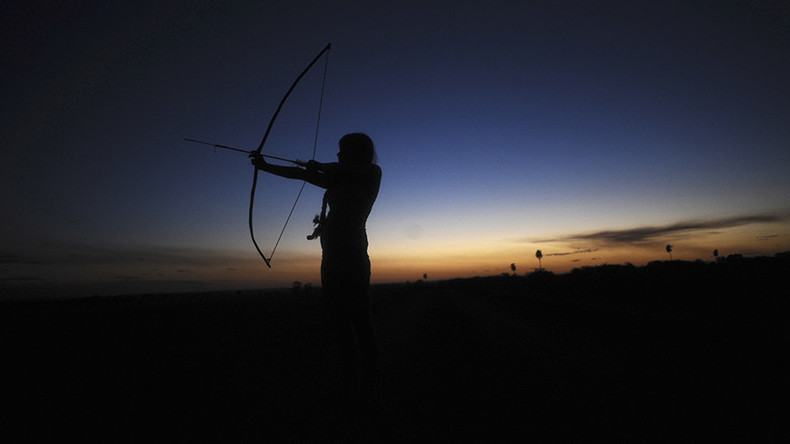 An Australian pensioner resorted to Robin Hood-style tactics, shooting a bow and arrow at an intruder, in an effort to stop him from fleeing his home with stolen goods.
The burglar was struck in the buttocks with the medieval weapon Sunday afternoon as he tried to steal the 68-year-old homeowner's car from the Sydney residence.
The culprit already had appropriated the man's car keys, a large amount of cash and other property in his possession at the time of the incident.
As the robber tried to reverse the stolen car out of the garage in Wattle Grove the homeowner confronted him with a bow and arrow, causing him to crash the car into a fence, according to police, as reported by ABC.
The perpetrator then fled the car and jumped a fence towards a parked Mazda Tribute but before he reached the car he was hit in the buttocks area with the bow and arrow.
"We believe the arrow may have struck the offender in the buttocks or the lower back region," Detective Inspector Dean Johnstone said.
Police are continuing to hunt for the burglar and have inquired with local hospitals to identify anyone treated for an injury consistent with this incident.
"We're asking anyone in the medical profession … to contact police if a person comes in with a wound [consistent] with an arrow striking them," Johnstone said.
Police are also investigating the circumstances under which the arrow was fired and have seized the bow and arrow as exhibits.
The owner was an active member of an archery club, police said. It is not against the law to own a wooden crossbow in New South Wales nor does it require a license or permit.