Snake on a plane: Venomous green viper spotted on board AeroMexico flight (VIDEO)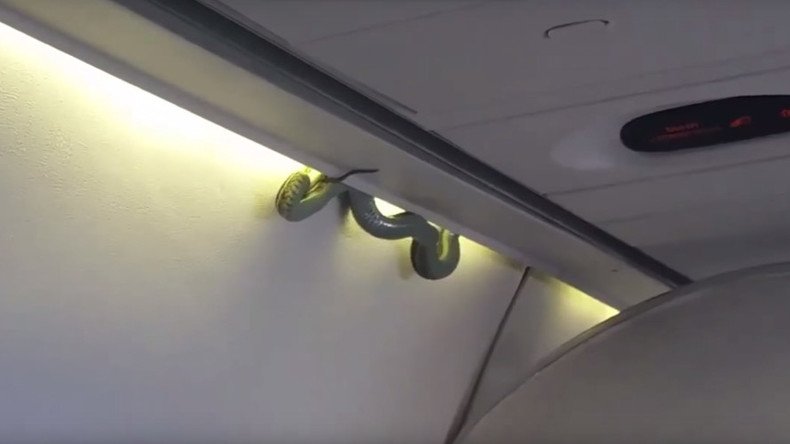 Passengers on board an AeroMexico flight came face to face with a deadly five-foot long viper while traveling to Mexico City in what was previously only a movie scene, brought terrifyingly to life.
The snake made itself known to its fellow passengers by suddenly plunging out of an overhead locker during the two hour flight from Torreon in the northern state of Coahuila.
A video recorded by passenger Indalecio Medina shows the viper slithering above seats before suddenly dropping down and dangling overhead.
The scenario instigated online comparisons with the iconic blockbuster Snakes on a Plane which saw Samuel L Jackson take on a deadly 'airborne' serpent.
Medina however was more forgiving towards the poisonous reptile, wrapping it in a blanket and giving it some magazines to read before the plane made a priority landing, according to his Facebook posts.
The snake was "alive and kicking" when it arrived at Mexico City International Airport, Medina said, and was met by animal control authorities who secured the creature.
While the passengers appeared startled by the sight of the deadly snake dangling from above, all considered, they were surprisingly calm.
We're pretty sure our reaction would have been more similar to this.
AeroMexico confirmed the potentially dangerous situation in a statement to Publimetro and is investigating how the snake came to be on the plane.