Enormous graffiti murals becoming Moscow's signature look (PHOTOS)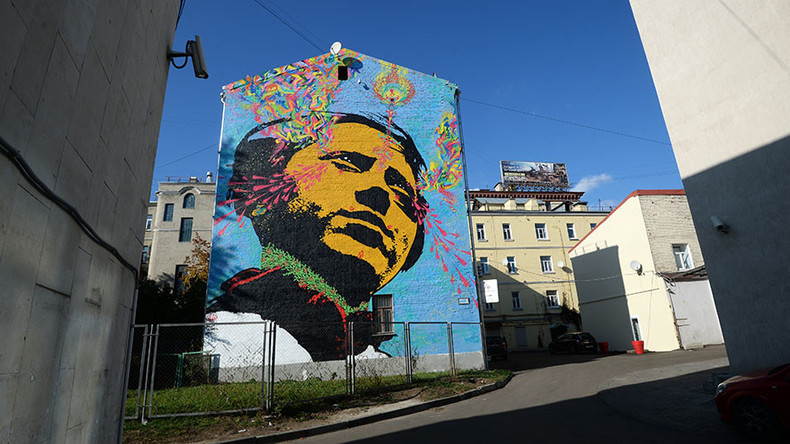 In recent years street artists have worked hard to spice up some of the dullest-looking buildings in Moscow, a city of roughly 16 million people. With yet another harsh, lifeless winter kicking in, the inhabitants of the Russian capital need all the color they can get – and luckily there's enough street art on display for everyone to choose their favorite from.
Vova Nootk, Astrakhanskiy lane 8
This mural won 1st prize at the Moscow Street Art Festival in 2012. Nootk painted the wall all by himself, working seven hours a day for five days. He used 200 cans of spray paint in the process.
Artem Stefanov, Arma 17
Stefanov's piece, called Hypnosis, was inspired by the 'glitch effect' of altered reality.
Alexey Kio, 1st Yamskogo Polya
Aleksey Kio's signature geometrical style shines through in this brightly-colored mural – a step away from his usual monochrome.
Zmogk, Kozhevnicheskaya 6
Some street art in Moscow is used for commercial purposes, like this stunning piece by Konstantin Zmogk, promoting a fashion brand in central Moscow.
Misha Most, Krasnaya Presnya
Other murals appear on a 'guerrilla' basis, like this one by the enigmatic and elusive artist Misha Most, part of the 'Zachem' (What for) gang – Moscow's signature rebel slogan that the artists spread worldwide during their tours. Spot a '3a4em' sticker or graffiti in your city, and you'll know where it came from.
Project Nasledie, Bolshoy Afanasievsky, 33
Artists from the 'Nasledie' (Heritage) project have created a number of huge portraits of Russia's outstanding cultural figures across the capital. A six-story image of writer Mikhail Bulgakov can be seen in Moscow's historic Kropotkinskaya district, where the action in Bulgakov's world-famous novel 'The Master and Margarita' largely took place.
Project Set, Sadovaya-Spasskaya, 18/1
Russia's pro-government youth movement known as 'Project Set' (Project Network) recently created controversial graffiti on one of the city's main roads, the Garden Ring. The group says its design showing a bear dressing the doves of peace in body armor is a birthday present to Russian President Vladimir Putin. It claims the mural is a "prequel" to the famous piece by the British artist Banksy in Palestine, the 'Armored Dove'. The image represents the idea that Russia is the nation responsible for providing safety for the rest of the world, the group explains.
State murals
Some murals hardly come under the definition of street art because they were sanctioned and ordered by the authorities, like the one above, celebrating 75 years since the Battle of Moscow during World War II.
Or this piece right in the city center, dedicated to Princes Minin and Pozharsky, who defended Moscow from a Polish invasion in the 17th century.
Although they have spread like wildfire in the past few years, thankfully these synthetic examples of street art are not the only designs gracing the walls of Moscow's buildings.
Street art festivals are a good example of a fruitful collaboration between artists and the authorities. And thanks to many such events held in the city, Moscow now has a lot to offer to graffiti lovers worldwide.
Alexey Luka, Garden Ring
Alexey Luka always considers the surroundings his art seamlessly blends into, working together with the colors of the landscape.
The local art scene has been livened up by foreign graffiti artists who have left their mark in Russia's capital.
Kobra, Bolshaya Dmitrovka
Kobra, from Portugal, painted a stunning tribute to superstar Russian ballerina Maya Plisetskaya.
3TTMAN, Orekhovy Boulevard
French artist 3TTAMN painted this mural in 2013, brightening up the Moscow suburbs.
Elias, Kaluzhskaya
Elias from Argentina painted the walls of the Meridian Art Center's brutalist building.