Mile high fight club: Brawl on Ryanair flight forces landing (VIDEO)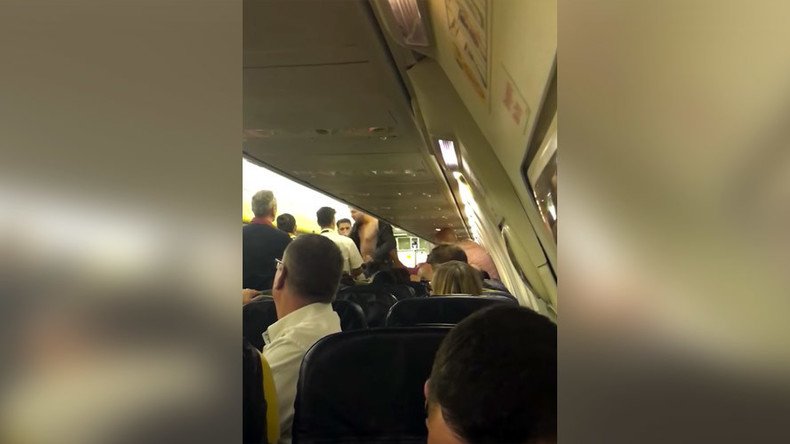 Passengers on a Ryanair plane from Brussels to Malta had a rough flight when a violent brawl broke out at 30,000 feet, forcing the pilot to make an unscheduled landing.
A video of the punch-up shows the chaos on board the flight that resulted in an air hostess taking a slap to the face.
The footage was filmed by Tommy Engere, who described the brawlers as "gypsy-like."
"It started when an elderly woman moved seats and told me they'd hit her on the head. Then a huge fight broke out when two Belgian men tried to intervene," he told the Sun. "They were attacking everyone around them."
The video shows the chaos on board as the large men punch each other in the enclosed space. Passengers can be heard screaming and urging the men to stop.
"They looked out of control as if they were on drink or drugs and the cabin crew did well to bring the situation under control," Engere said. "They were eastern European – gypsy types – but spoke a bit of French as well, and were incredibly aggressive."
Passengers had to hold the fighters back from each other. The pilot announced that their behavior was "not acceptable at all," and that the flight would be landing.
The plane landed in Pisa, Italy, where the fighters are believed to have been arrested.
Ryanair said "disruptive" the flight had been diverted to Pisa because of the passengers. "The aircraft landed normally and four passengers were removed and detained by police upon arrival, before the aircraft continued to Malta.
"We will not tolerate unruly or disruptive behaviour at any time and the safety and comfort of our customers, crew and aircraft is our number one priority. This is now a matter for local police," the airline said.
You can share this story on social media: