'Drought finally over': Internet reacts to Chicago Cubs win after 108yrs
Published time: 3 Nov, 2016 10:03
Edited time: 3 Nov, 2016 14:17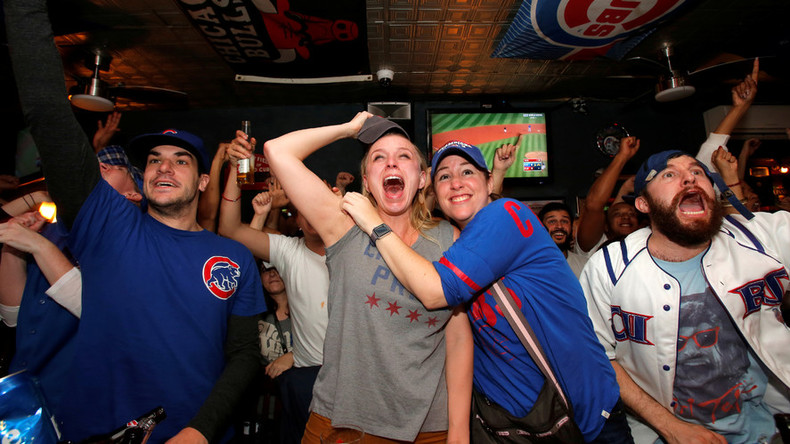 The Chicago Cubs' victory over the Cleveland Indians in game seven of Major League Baseball's World Series has sent the internet into a frenzy, with the hashtag #FlyTheW trending after the team ended their 108 year-old "curse."
To celebrate, the team posted a video of Eddie Vedder's 2007 anthem "All The Way," produced for the 2008 playoffs but updated with a new – and happier – ending. It quickly went viral.
"The drought is finally over," Democratic presidential candidate Hillary Clinton told the victorious team on Twitter, congratulating them with the #FlyTheW hashtag.
When the Cubs win at Wrigley Field, their home stadium, a flag with a giant "W" on it is traditionally flown at the grounds. Despite the game being played in Cleveland, the flag was used as a symbol of victory by fans, celebrating the first time the Cubs have won the World Series since 1908.
They did it! 108 years later and the drought is finally over. Way to make history, @Cubs. #FlyTheW -H

— Hillary Clinton (@HillaryClinton) November 3, 2016
President Barack Obama expressed similar feelings, despite hailing from Chicago's south side, where the Chicago White Sox reign. "Want to come to the White House before I leave?" he asked the team on Twitter.
It happened: @Cubs win World Series. That's change even this South Sider can believe in. Want to come to the White House before I leave?

— President Obama (@POTUS) November 3, 2016
Bill Murray managed to steal some internet attention when he photobombed a Cubs player being interviewed. The actor has never been shy about expressing his love for the Cubs and even let a ticketless fan in on the action, reportedly giving them a free ticket and sitting beside them during the game.
Fellow actor, comedian, and long-suffering Cubs fan Nick Offerman couldn't hide his emotion, tweeting "I am openly crying."
Dear followers.
The @Cubs have won the World Series and I am openly crying.
Ron may even have lifted his glass 2 our longsuffering. #Swanson

— Nick Offerman (@Nick_Offerman) November 3, 2016
Some fans used the opportunity to remember loved ones who died before having the opportunity to see the Cubs win the World Series, writing their names on a wall at Wrigley Field.
Even their rivals from the other side of the city, the Chicago White Sox, couldn't help but be proud of the Cubs, tweeting congratulations to the team.
"My grandpa has been waiting 81 years for this" one fan tweeted along with a video of the grandfather watching the moment the Cubs won the game. The Windy City isn't expected to get much sleep tonight as celebrations continue.
Chicago!!!!!! This was for you!!! The best fans in baseball deserve nothing less!!! World champs baby!!!!! #FlyTheW

— Albert Almora Jr. (@albertalmora) November 3, 2016