CCTV captures horrifying crocodile attack on couple in pool (VIDEO)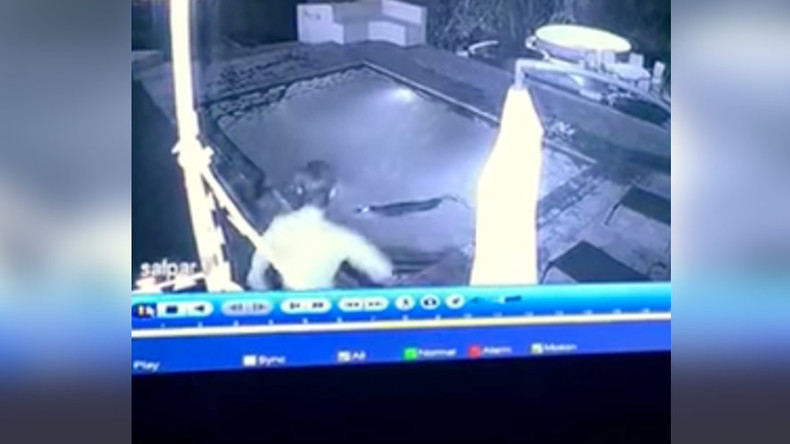 Terrifying CCTV footage has been released of the moment a hungry crocodile joined a couple taking a late night dip in a hotel swimming pool in Zimbabwe.
The shocking security footage from an unnamed hotel in Kariba was posted online by Zimbo 88 and has been viewed more than 240,000 times.
It shows the juvenile Nile crocodile creep up towards the edge of the pool before lunging in. The male guest quickly jumps out, leaving his female friend alone with the giant reptile.
The woman frantically swims to the edge of the pool but the croc strikes and appears to bite her arm before she can slip away. She manages to get out of the water as the man tries to scare away the intimidating creature.
Two voices can be heard commenting off-camera on the scene, which could be straight out of a horror movie.
Online comments responding to the video focused on the man's willingness to flee the pool while the woman was left behind.
Some defended his actions, however, saying it was an instinctive flight response.
The Nile crocodile is the second largest crocodilian species and has the reputation of being a vicious man-eater, killing an estimated 200 people each year.
Kariba, home to Lake Kariba – the world's largest man-made lake, is renowned for its large croc population. This has been rising in recent years, along with the number of people attacked and killed by them.
Zimbabwe declared a 'state of disaster' last February due to the severe drought facing the country. The drought conditions have reportedly forced typically lake-dwelling animals out of their natural habitats to seek other water sources, such as swimming pools.
You can share this story on social media: