That's a wrap: Ancient mummies slowly 'melting' into black slime (PHOTOS)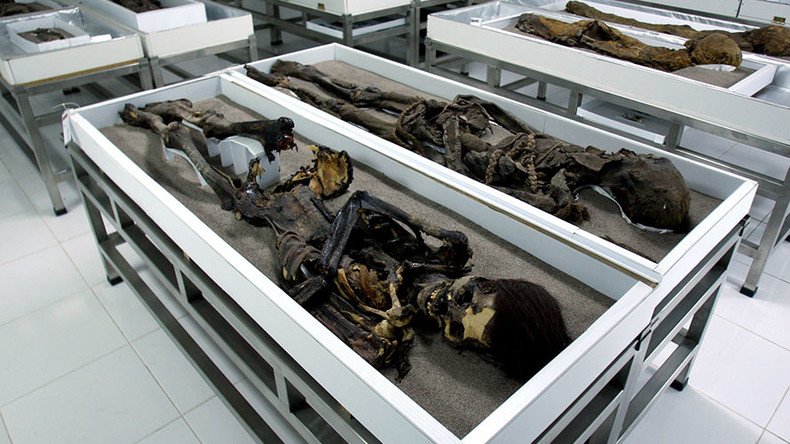 Chilean researchers have appealed for help to stop the world's oldest mummies turning into black slime.
Officials have turned to UNESCO to recognize the mummies, believed to be at least 7,000 years old, with a world heritage status.
"The application is not a goal in itself, but the start of a process, of improved conservation tools, with the Chilean state and the international community," anthropologist Sergio Medina Parra who is leading the attempt told Reuters.
The Chilean 'Chinchorro' mummies date back roughly 7,000 years, making them some 2,000 years older than Egyptian mummies. "They have more relative antiquity in terms of intentional work on the human body than that found in Egypt," Medina said.
However, even if UNESCO approves the application, it may be too late for almost half of the 300 mummies which are rapidly being consumed by the destructive bacteria. Researchers hope that securing world heritage status will help preserve the remaining mummies.
Originally discovered in the Atacama Desert, known as the driest desert in the world, the mummies' newer modern surroundings – including the University of Tarapacá's archeological museum – are being linked with a bacteria which is ravaging some of the remains.
After thousands of years buried under desert sand, humidity is now assisting the bacteria to thrive on the skin of the mummies. "As soon as the right temperature and right moisture appeared, they started to use the skin as nutrients," biology professor Ralph Mitchell, who examined the remains, told Live Science.
The bacteria is causing the mummified remains to appear to melt into a black slime. However, this could be prevented by changing the surrounding humidity and temperature, according to the team behind the UNESCO application.
Unlike the Egyptians who mummified only their elites, the Chinchorro mummies are made up of a wider social sample which includes children and miscarried foetuses. Researchers believe nearby volcanoes contaminated the drinking water in the area with arsenic, leading to a high rate of infant mortality and miscarriages.
"Sorrow over these deaths may have led this community to start preserving the little bodies," researcher Bernardo Arriaza told the LA Times.
You can share this story on social media: