Watch 30yrs of Arctic ice shrinkage in chilling NASA timelapse (VIDEO)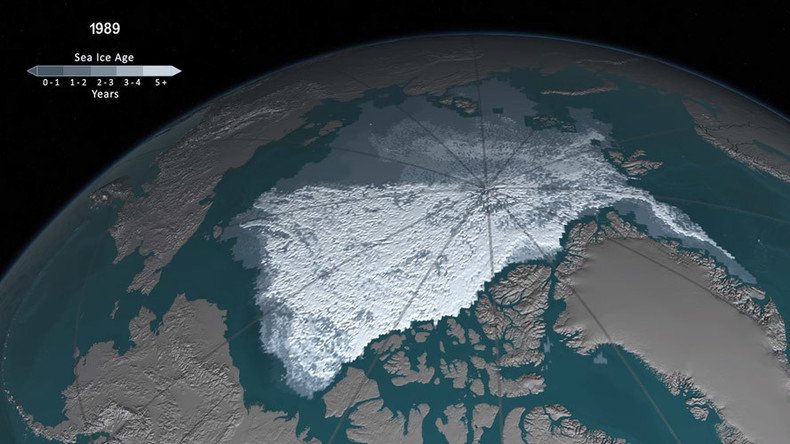 A new animation from NASA shows the movement of Arctic sea ice, the large mass of frozen water on the Arctic Ocean, in a stunning time-lapse spanning three decades.
The Arctic sea ice is shrinking, and as it loses mass, it becomes more at risk from warming waters and atmosphere.
"What we've seen over the years is that the older ice is disappearing," Walt Meier, sea ice researcher at NASA's Goddard Space Flight Center in Greenbelt, Maryland, said.
"This older, thicker ice is like the bulwark of sea ice: a warm summer will melt all the young, thin ice away but it can't completely get rid of the older ice. But this older ice is becoming weaker because there's less of it and the remaining old ice is more broken up and thinner, so that bulwark is not as good as it used to be."
NASA's Scientific Visualization Studio has created a visual impression of just how much the Arctic sea ice has reduced since 1984.
In 1984, there was 1.8 million sq km of ice that was at least five years old at its lowest annual amount. By September 2016, there was a mere 110,000 sq km left.
The time-lapse animation also shows how the mass of ice moves around throughout the seasons and years. While the surface area of the sea ice has been shrinking, the older ice is also being reduced, making the entire ice block less sturdy due to the younger ice's thinness.
In the video, the younger ice is shown a darker shade, while the older ice is white.
Scientists at the University of Colorado came up with a way to monitor Arctic sea ice movement and age using satellite passive microwave instruments, weather and data from buoys.
The instruments detect 'brightness temperature' which comes from reading temperature, texture, salinity and the amount of snow on top of the ice.
"It's like bookkeeping; we're keeping track of sea ice as it moves around, up until it melts in place or leaves the Arctic," said Meier.
You can share this story on social media: