Russian android plans to redefine how humans and robots talk to each other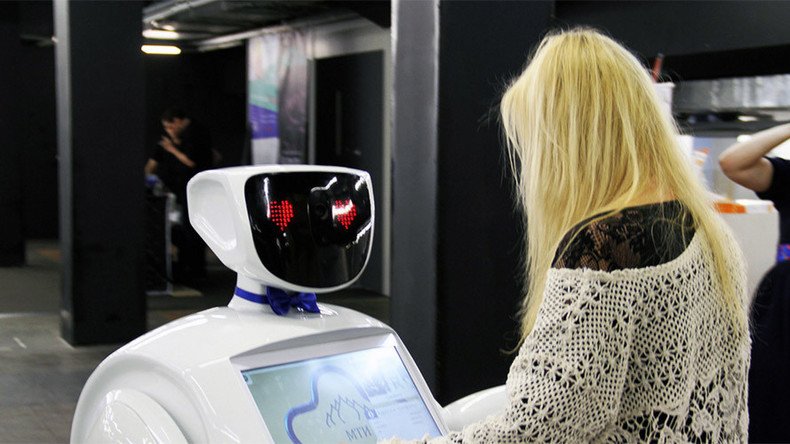 In just three years, a Russian startup has developed a talking robot that has sold hundreds of units around the world. Alan Tim is now being systematically studied by scientists who want to understand human-robot communication.
Named after AI mathematician Alan Turing and World Wide Web inventor Tim Berners-Lee, the android was developed by a team of young engineers and entrepreneurs from the city of Perm, on the edge of the Urals. While many startups have a self-important founding legend, Oleg Krivokurtsov – still only 25 – says his eureka moment came after reading an article about vacuum cleaners back in 2011.
"The article said that one in five vacuum cleaners in Europe was a robot, and I thought yes, the future has arrived," Krivokurtsov told the news website Tsargrad.
What followed was a textbook Silicon Valley story, albeit one set in provincial Russia. At first, the engineer led a team of three, but after an injection of funds from an angel investor, the company, Promobot, hired 20 people and developed its first working prototype within months.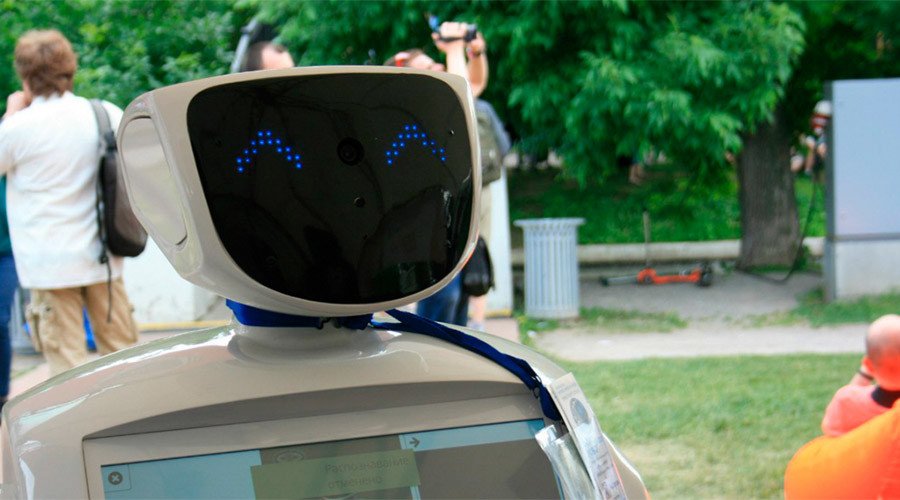 As it stands now, Alan Tim is a gleaming white human-sized android that move autonomously at a speed of 5 km/h (avoiding objects using collision-detection sensors) on a battery that lasts five hours. He is fitted with a voice recognition module, and a camera that can photograph and then recognize up to 1000 people, regardless of when their last conversation took place. He has a memory bank filled with 100,000 specific phrases, and can research topics on the internet instantaneously.
The initial model wasn't nearly as sophisticated, but neither did it need to be. After all, Alan Tim's first job was standing outside a flower store in a shopping mall, inviting customers in and reciting slogans in a flat, digital voice.
"Sales shot up by three times," said Krivokurtsov, who said that people were "captivated" by the sheer novelty of the talking android.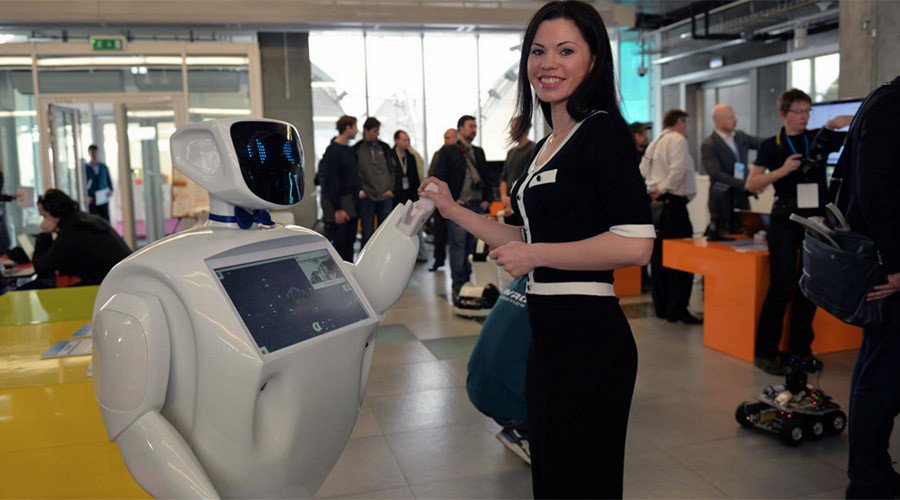 Since then, it has been a rapid upward path of endless AI competitions, government grants, and media coverage. Last year, Alan Tim was appointed as the deputy head of the faculty of robotics at the Moscow Technological Institute (MTI), where he serves as lecturer, and also gives a regular tour of a Moscow underground station. The robot now visits Russian universities, giving guest talks and holding Q & A sessions, and has had a photo-op with Prime Minister Dmitry Medvedev.
For all his gleaming good looks, Alan Tim remains some way from the all-knowing, snarky AIs from sci-fi. Eyewitnesses at a lecture he gave in Kaliningrad this week say that his monotone voice, incapable of variations in tone and rhythm, does not make for easy listening. He often misunderstands questions, resorting either to stock answers (usually, a tech-themed joke) or Wikipedia excerpts that are not always contextually appropriate. When stumped, Alan Tim sometimes stops and begins performing a dance, consisting of several repeated movements, to the tune of 'Billy Jean.'
In fact, all the functions provided by the robot are available at a more advanced level elsewhere – Apple's digital personal assistant Siri, for example, uses neural networks and collects information from hundreds of millions of users. There are also Japanese and Western robots capable of far more complex movements and facial expressions.
But according to the company, few robots combine so many functions in one body, and fewer still can compete on price. Though more and more affordable androids – including ones that perform similar functions to Alan Tim – are coming on the market, the top models can still retail for hundreds of thousands of dollars. Alan Tim costs between $6,000 and $10,000 and export orders have come from as far away as China and Ireland.
Unveiling a new modification this week, the designers promise that Alan Tim will keep learning new tasks, and ensure that the still relatively-small Russian team can keep up with better-funded and staffed companies elsewhere.
Regardless of its commercial prospects, Alan Tim is taking part in what the authors say is a ground-breaking two-year study. Since last year, MTI scientists say they have been studying 50 Alan Tim robots, to observe exactly how people perceive the machines, how they attempt to interact, and what they want from robots. Researchers say this is the biggest such project ever and hope that when the results are published, they will not only help to improve Alan Tim, but update and upgrade the principles of robot-human communication.
You can share this story on social media: