Mother chains daughter to a pole for refusing to go to school (PHOTOS)
Published time: 28 Oct, 2016 17:31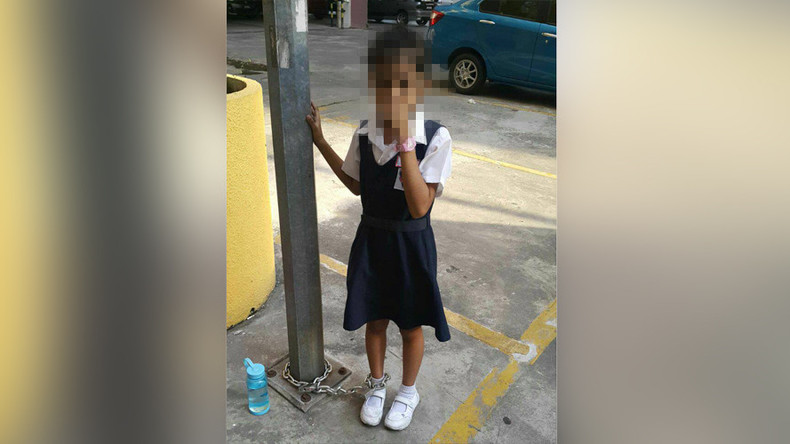 A Malaysian woman has been released from police custody after she chained her 8-year-old daughter's leg to a lamp post as a form of punishment.
The 30-year-old mother was questioned by police in the city of Petaling Jaya after locals reported the incident to the authorities on Wednesday.
"When our men arrived at the scene, a group of people had already gathered around the girl who was chained to a pole," assistant police commander Mohammad Azlin Sadari said.
The mother arrived soon after and admitted she had chained her daughter up as a punishment when she refused to go to school.
Images of the chained girl were circulated on social media, showing the uniformed child crying and sucking her thumb.
Police took the mother and her daughter to the Subang Jaya police station for questioning.
"We established that it was the first time the girl was chained," Azlin Sadari explained. "It was decided to let the mother go home with her daughter, warning her not to do it again."
Police say they are investigating the mother for neglect and exposure of a child to physical injury under Section 31(1)(a)of the 2001 Child Act.
One of Malaysia's leading psychologists, Dr Abdul Kadir Abu Bakar, told the Straits Times that such a punishment was "obviously wrong."
"It may be counter-productive and jeopardize their learning abilities," he said. "Punishment will only make the child fear school more."