Miss Iceland quits after being told she has "too much fat"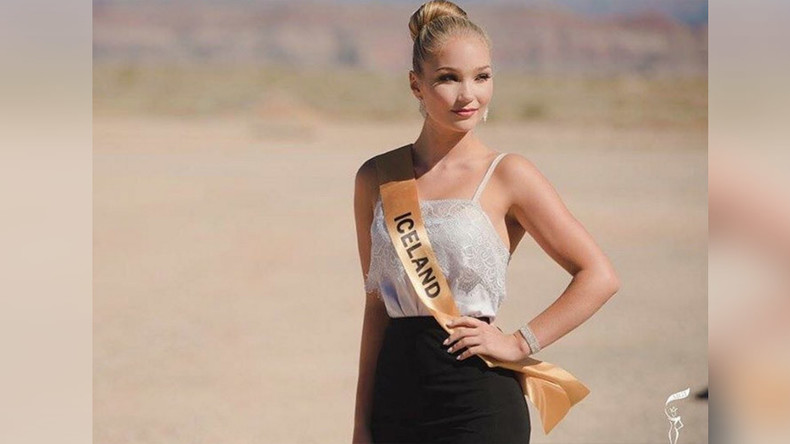 Miss Iceland announced she is quitting the Miss Grand International beauty contest in Las Vegas after being told she has "too much fat."
Arna Ýr Jónsdóttir wrote a letter to the organization informing them of her decision after she was told to lose weight if she wanted to stand a chance to win.
The 20-year old shared the letter on Instagram. "I am a very strong woman, but sometimes my strength isn't enough," it read.
"Your staff told me that I had to lose weight for the finals because I have to (sic) much fat on me and also to (sic) big shoulders," she wrote. "They told me to eat less and then you would like me more."
Jónsdóttir went on to detail that she was Miss World Iceland, coming 14th in the contest, and that she had won a previous pageant in 2015.
"With all my qualities and good experience I come with my passion and hard work to your pageant," she said.
"Four days before stage they tell me that I'm too fat for you," the letter continues. "Actually if anyone tells me that I'm too fat or whatever, they just don't deserve me. And that's why I left."
"Miss Grand International doesn't deserve my face, body, personality or heart."
Jónsdóttir goes on to call for the organization to open its eyes, "because the year is 2016 and if you are gonna hold an international pageant you have to be able to see the international beauty."
Jónsdóttir posted a video to Instagram on Wednesday explaining her decision. "I'm not sad," she explained. "I just wanted to grab this opportunity to stand up for myself, for women in this world, for young girls, and let them know it's okay to be who you are."
You can share this story on social media: