Mysterious giant Celtic cross spotted by drone growing in Irish forest (VIDEO, IMAGES)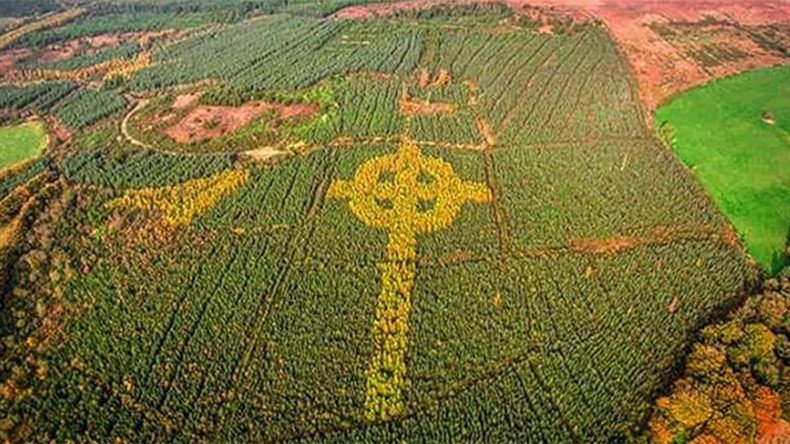 A giant Celtic cross design, only visible from the sky, has been discovered growing in an Irish forest. The 100-meter (330ft) long religious symbol remained undetected for years until airline passengers noticed it while flying overhead.
The cross in Killea forest in county Donegal caused much confusion until an investigation by UTV revealed it wasn't aliens bored with crop circles but was instead planned by Liam Emmery, a very creative and talented forester.
Meticulously planting hundreds of trees over a period of years Emmery was able to plan out the design which would reveal itself every autumn to those flying overhead.
A particularly dry autumn has made it stand out even more this year, with the different green hues more prominent.
Unfortunately Emmery passed away in 2010 aged 51, before his creation became known to the public. His wife had forgotten about his elaborate plan until UTV approached her about it, telling them "I'd forgotten about the plantation, if he was here, we would have all heard about it because he would have been so proud."
Horticultural expert Gareth Austin told Donegal Daily"It's not just cutting patterns in your back garden. This horticultural engineering – we will be appreciating this for up to the next 70 years."
You can share this story on social media: