Great whites break into diving cages in Gulf of Mexico (VIDEOS)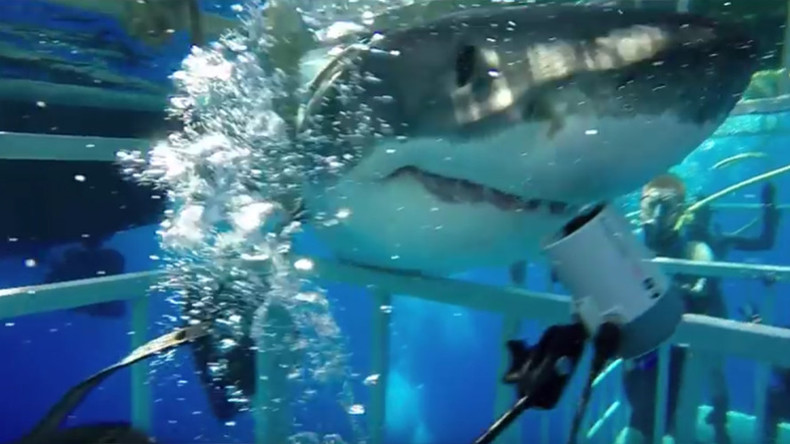 Terrifying footage of the moment a great white shark enters an underwater cage is the stuff of nightmares.
The video is the latest to emerge from the Gulf of Mexico in recent days, and comes in the wake of another horrifying video showing a great white shark entering a dive cage.
READ MORE: Cage fight: Great white & diver in horrifying struggle after shark overshoots snack (VIDEO)
The latest video was uploaded by Indiana man Craig Capehart on Thursday and shows his close encounter with a Great White off the coast of Guadalupe Island in August.
Capehart was in a dive cage to see the Great White sharks along with fellow shark watchers in nearby cages.
The video captures a great white shark swimming towards the cages, making its way between two of them.
The shark then sticks its head into one of the cages, inches away from the diver. It manages to get most of its body into the cage, mouth open to reveal its sharp teeth.
"It was the most frightening thing that has ever happened to me!" Capehart said.
The shark appears to want to make its way out of the cage through another gap, but gets stuck.
"All I could think was that if it got fully into the cage then it would flail wildly, injuring itself and possibly killing us by smashing us with its body."
After a moment, it breaks free of the cage and swims away.
Earlier this week, a similar video emerged from the same spot that was also filmed in September. It shows a great white breaking into a cage with four divers. The shark bit the air pipe supplying oxygen to the divers.
It fully entered the cage and thrashed around, causing the cage to move violently. Luckily, there was an emergency valve so the divers could still breathe.
"The first minute or so felt like a horrific earthquake underwater, and I kept thinking, 'We just need to wait this out,'" diver Katie Yonker said. "But in the back of my head I feared the cage would break apart and this would be the end for me."
The cage was pulled to the surface but the shark was still inside. The divers managed to escape and the shark was eventually freed from the cage.