Real-life Robocop: Dubai to get android police force by 2017 (VIDEO)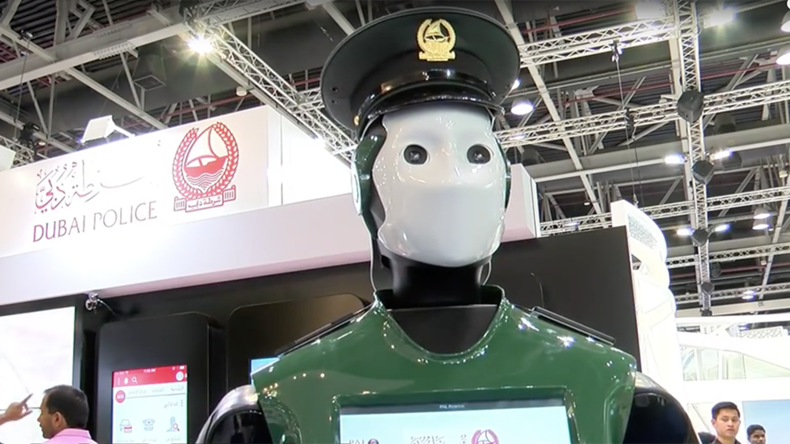 Robot cops will soon patrol the streets of Dubai in partnership with the city's police force. The latest prototypes have been unveiled at the Gulf Information Technology Exhibition (GITEX).
A robocop prototype worked the room at Dubai's annual computer and electronic trade show taking place this week.
The robot patroler was able to salute and shake the hands of attendees. A touchscreen on the robot's body can be used to report crime and pay fines for traffic violations, Gulf Business reports. It can also scan faces.
Dubai Police, IBM's supercomputer, Watson, and Google are working together to add a virtual assistant system so that the robot can follow voice commands. Using AI technology, they hope to create robots which can "spot people from 10 meters or 20 meters away, approach them and greet them," Dubai Police's Technical Innovations Department Head Major Adnan Ali explained in June.
"We're expecting for it to be in tourist areas at first in 2017, near Burj Khalifa, GPR, City Walk and by 2020 we want to have a more thorough area covered," Ali said.
A similar prototype appeared at last year's GITEX and was touted as a way to assist tourists on the streets and in shopping malls in Dubai.
"The robots will interact directly with people and tourists. They will include an interactive screen and microphone connected to the Dubai Police call centers," an official said at the time. "People will be able to ask questions and make complaints, but they will also have fun interacting with the robots."
You can share this story on social media: