'Completely crazy': Freaky UFO lights up Geneva, stuns onlookers (VIDEO)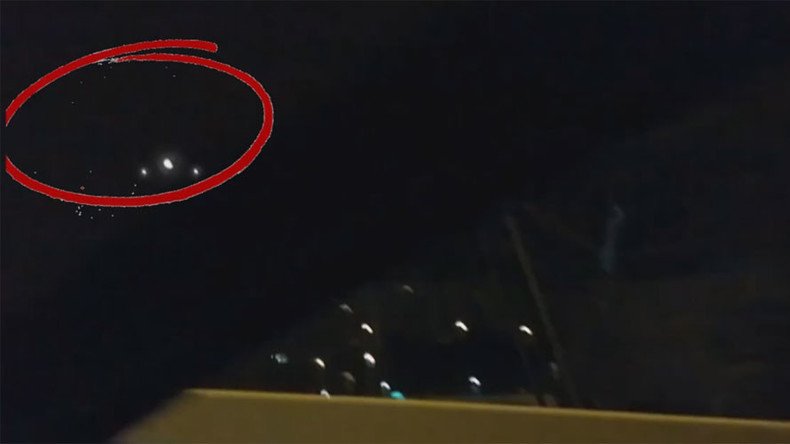 People have been left confounded by the appearance of an inexplicable flying object in the skies above Geneva, leading some to speculate about extraterrestrial activity.
The UFO appeared on Wednesday evening in the Praille area near Geneva stadium. Footage of the unusual dark circular object was captured by numerous witnesses, with several people posting photos and videos on social media.
"Everyone sees the same thing as me ???" asked Servette FC footballer Matías Vitkieviez on Facebook. "It's completely crazy!!! UFO above the industrial area behind the stage of la praille #ufogva."
One witness told Tribune de Genève that the UFO emitted a shrill noise and was "as big as a plane."
"It was about 8:30 p.m., the phenomenon lasted about 20 seconds and the object departed at once, as if it was burning," the witness said.
Another witness, Sacha, also posted about the UFO on Facebook. "We can hardly see anything on the photo up but we clearly distinguish oval and flat with three lights then it quickly disappeared," he said.

20 Minutes reported Sacha describing that the sighting made a huge impression on him: "It changed my way of thinking. Let's say that before I believed 30 percent in UFOs, now I believe 70 percent."
The control tower at Geneva International Airport did not notice any unusual flying objects and no strange activity was detected over the area between 8 p.m. and midnight on FlightRadar24.com.
So the question lingers: what was the UFO? One popular theory speculated it was drone equipped with LEDs.
But Fabio Chironi who owns an aerial photography company told the Tribune de Genève that the craft is too big to be a drone and it does not look like a drone, or at least any model known to him.
"Usually the lights are arranged under the arms and not the ends. Moreover, they are of different colors to distinguish the front from the back... Finally, the object appears to be too big to be a drone," Chironi concluded.
You can share this story on social media: