International playboy and poodle enthusiast: Meet Thailand's controversial heir to the throne
Published time: 14 Oct, 2016 01:56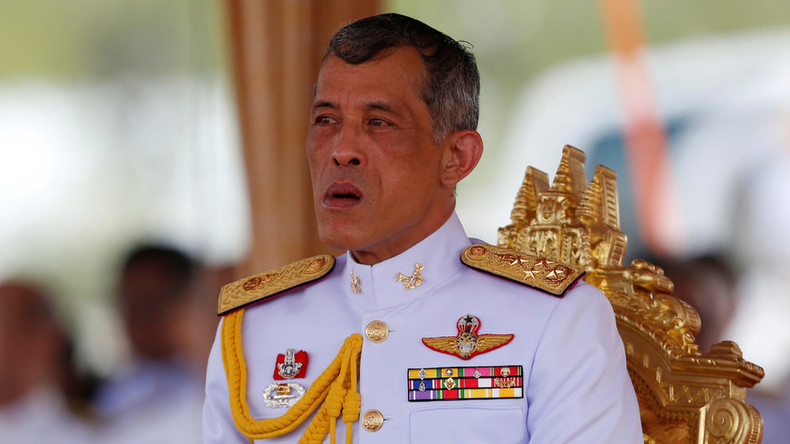 He once made his pet poodle an air chief marshall and is known for his playboy lifestyle. Now, Crown Prince Maha Vajiralongkorn looks set to succeeded his recently deceased father, Bhumibol Adulyadej. We take a look at the next King of Thailand.
Vajiralongkorn was expected to be announced as successor to the throne when his father's death was declared, but in an unprecedented move, the official announcement was delayed to allow time for mourning.
The next King of Thailand is perhaps not quite as well loved by the people as his popular father – however, this is in a country where reporting on the monarch can land you in jail.
Announced as Adulyadej's successor to the throne 40 years ago, the 64-year-old was described in a 2015 analysis by Strategic Forecasting as "exceedingly unfit for kingship" in a society that "largely views the monarchy as a force preserving Thai culture and values".
Vajiralongkorn is known to have been married at least three times, including his second marriage to his mistress from his first marriage. After his second marriage came to an end she left the country with their daughter, whom he had abducted and returned to Thailand, according to The Daily Beast.
His playboy lifestyle was even referenced by his own mother in a visit to the US in 1982. Speaking in Dallas she said, "if the people of Thailand do not approve of the behavior of my son, then he would either have to change his behavior or resign from the royal family".
In 2014 he divorced for the third time and is currently reportedly planning to marry a former flight attendant who lives in Munich, which Vajiralongkorn recently visited, exposing his bizarre lifestyle.
Vajiralongkorn was photographed earlier this year at the airport, saluting officials while wearing a crop top, jeans and temporary tattoos – which some could well consider attire not fit for a King. The Thai wife of the UK journalist who shared the pictures on social media was questioned by police. Under the country's lese majeste law, actions deemed to be insulting to the royals can result in prison sentence of up to 15 years.
It is usually up to his sisters to appear on behalf of the royal family in Thailand, with Vajiralongkorn usually being more comfortable out of the spotlight. In a 1987 interview with Thai magazine, Dichan, he said, "when you are born into this position you have to accept it. Some people like me, some people don't like me. It's their right. … wherever you go there is gossip."
His wealth has been the source of many rumors in Thailand including allegations that he owned nightclubs that disregarded legal closing hours due to their connection and even a rumor that he rigged the national lottery. "The money I spend is acquired honestly. I don't want to touch money earned illegally and through the suffering of others" he told reporters invited to his residence in 1992.
Educated in England and Australia as well as training with the US armed services, Vajiralongkorn is a qualified military and helicopter pilot with a love of aviation. His other great love is his poodle Foo Foo, who was revealed to have been assigned the rank of air chief marshall in the Royal Thai Air Force, according to a US diplomatic cable published by WikiLeaks.
Last year Foo Foo passed away and was mourned with four days of Buddhist funeral rites, causing concern among the public over whether Vajiralongkorn might be suitable for the position of king.