'May he die': Anti-bullfighting campaigners hurl abuse at 8yo aspiring matador battling cancer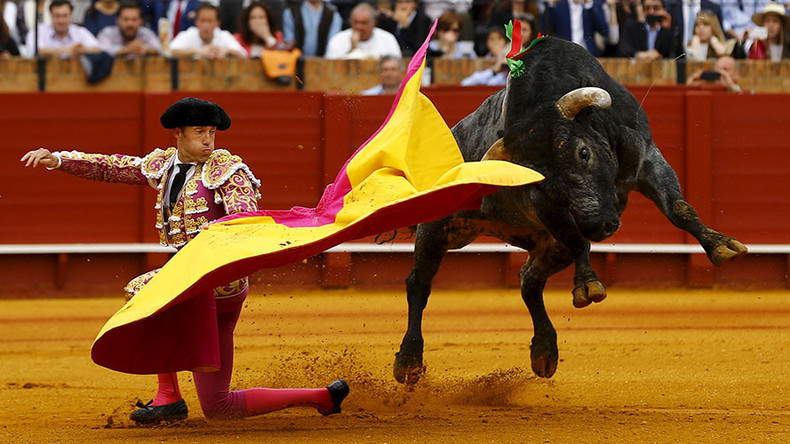 An eight-year-old Spanish boy who lived his dream of becoming a matador has faced a torrent of abuse on social media from anti-bullfighting activists.
The controversy stems from when Adrián Hinojosa, who suffers from a rare bone disease called Ewing sarcoma, was attending a charity bullfighting event in Valencia to raise funds for children with cancer. Adrián, who dreams of becoming a matador, was carried around the bullring in a lap of honor.
"May he die, may he die now. A sick kid who wants to get better so he can kill innocent healthy herbivores that want to live," one user said on Facebook. "Oh Adrián, you're going to die."
"What more needless spending is going on the treatment of Adrián, the child with cancer who wants to be a bullfighter and cut ears," a tweet since deleted read, according to the Local.
The boy's father has threatened legal action against the social media users disgusted by the boy's love of bullfighting.
Pictures of Adrián enjoying the event soon went viral sparking a debate on bullfighting in a country already deeply divided on the issue. Despite the venom spewed at Adrian, his father said the event had helped his son with the tough battle he faces.
"He dreams of becoming a bullfighter, this experience has given him strength and raised his spirits as he battles cancer," he told the Local. His mother also asked for "respect for a child who is going through bad times and for his family too who only want to help realize his dreams."
In a backlash against the abuse aimed at Adrián, the hashtag #AdriánTeVasaCurar, translating as "Adrian you are going to be cured," trended on Twitter in Spain.
The country's Guardia Civil tweeted their support for the ill boy, along with the police who said "Desiring the death of a child is despicable, cowardly and could be a crime. We are with you. You are going to win this battle!"
"I am anti bullfighting and wish the child to live. And when he grows up we will show you should want the same things for animals," another tweet said, hoping age would help him learn about animal rights.
In July, a matador was gored to death for the first time in 20 years, prompting some opponents to the sport to celebrate a victory for the bulls.
READ MORE: Spanish bullfighter gored to death in ring first time in over 20 years