Killer dolphins: Bottlenose pod fires porpoise out of water in gruesome attack (VIDEOS, PHOTOS)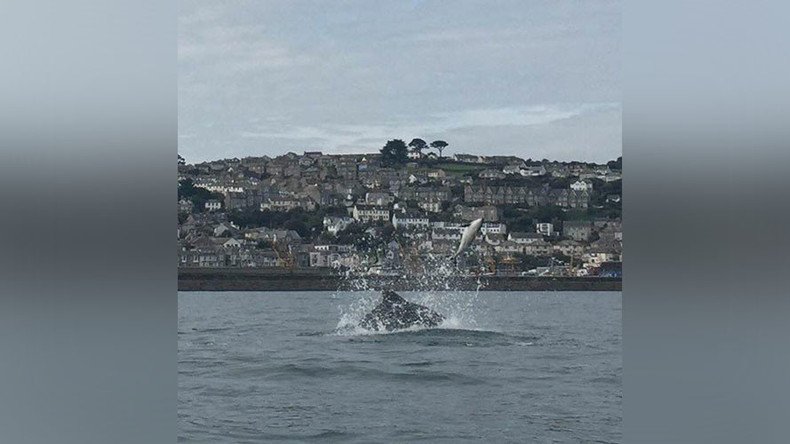 The brutal moment a porpoise is thrown into the air like a rag doll in a fatal attack by a pod of dolphins has been captured on camera.
The rare footage and images were captured by the Pendeen Pilot Gig Club in Newlyn Harbour in Cornwall, England on Sunday.
At first, the group thought they were witnessing the miracle of life, not a deadly attack.
"There were six of us out on the water for a Sunday morning social row just off the harbour and at first we thought we had come across a dolphin giving birth," Sue Nankervis told The Cornishman."There was a lot of blood in the water and you could see a small animal among them."
"We just assumed it was a dolphin giving birth but we soon realised they kept taking it under and flipping it up so that was not the case."
Later, they wondered whether the group of bottlenose dolphins were trying to revive one of their own.
After posting their photos and video on social media, experts confirmed it was a harbour porpoise under attack.
"They were pulling it under and throwing it up in the air. It was an amazing sight," Nankervis reflected.
The deceased porpoise was later taken from the water for examination by Marine Strandings Network. The Cornwall Wildlife Trust reported it had "multiple severe injuries as a result of the attack."
It isn't clear why the bottlenose dolphins attacked the porpoise.
"It is certainly not predation," a Cornish Wildlife Trust spokesperson told the Cornishman. "Many theories have been put forward, including misdirected infanticide [bottlenoses will kill calves], misdirected sexual aggression or play behaviour, or an aggressive response to feed competition are just some."
The Trust said it had "a number of dead porpoise, and more unusually common dolphin, reported… with injuries resulting from bottlenose dolphin aggression."
In 2014, Caroline Weir from Aberdeenshire in Scotland also captured a pod of dolphins throwing two porpoises into the air. Their bodies were washed up on shore with "horrific" injuries including gaping holes on their heads, the Daily Mail reported.
Experts said the dolphins were likely "play" fighting with the porpoises. "Bottlenose dolphins regularly do this, a bit like a cat plays with a mouse," the Scottish Marine Animal Strandings Scheme explained. "Once the porpoise is dead they lose interest. They are also known to kill infants of their own species."
You can share this story on social media: