Full throttle: Naked biker leads Czech cops on chase around town (VIDEO)
Published time: 8 Oct, 2016 17:59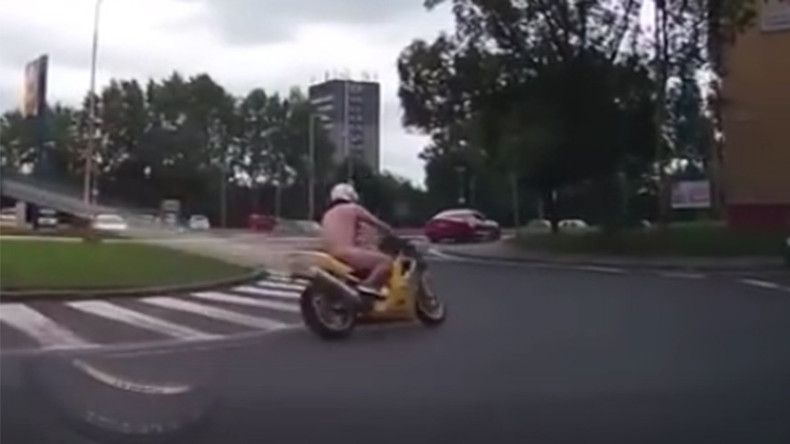 Footage has emerged of police in the Czech Republic chasing a naked motorcyclist around the streets in the east of the country recently.
Officers in a patrol car came upon the man at a roundabout in Havířov, out riding a motorcycle wearing nothing but his helmet and a pair of trainers.
According to the police, they attempted to apprehend the man, but he sped away and was aided in his escape by a car. The red Audi hindered cops from overtaking and catching up with the naked man.
Police said it was possible that the Audi driver knew the biker.
"He was driving in a manner that made it impossible to overtake the car and [get the] motorcycle driver to stop," Bohuslav Muras of the Municipal Police told Idnes.cz.
The naked man was only caught after he lost control of the bike and crashed - and even then he attempted to make a getaway on foot.
When he was arrested it was discovered that the biker was actually banned from driving and could be facing a prison sentence.
The police said in a statement that they could not exclude the possibility that the driver of the red Audi knew the motorcyclist.
Strangely, this is not the only time an instance of naked motorcycling occurred in the town of Havířov.
In April 2015 a man was jailed for five months for driving a motorbike with no clothes on, without insurance, and with with the word 'Police' scrawled across his naked back. He was arrested after crashing into a car.