Man clamps testicles with magnets in home therapy mishap (GRAPHIC VIDEO)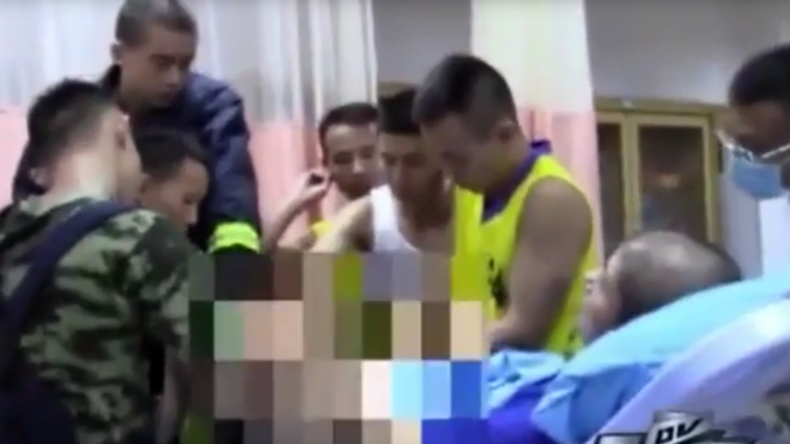 A man in Guangdong province, southern China had to be rescued by a team of firefighters and medics after accidentally clamping powerful magnets onto his genitals, crushing his scrotum.
According to Southern Metropolis Daily the 45-year-old was attempting to apply magnetic therapy for a prostate issue when the powerful magnets accidentally locked together, effectively sandwiching his genitals.
WARNING: GRAPHIC VIDEO
Ten firefighters and soldiers reportedly responded to an emergency call over the incident, but could not find a way of safely removing the vice-like magnets.
READ MORE: 'Genitalia-eating human-toothed' fish pulled from Michigan lakes (PHOTO)
The man was admitted to Pok Oi Hospital in Zhongshan City where puzzled medics considered several removal methods to relieve the patient - even consulting the magnet manufacturer for tips.
Firefighters eventually resorted to using a fearsome-looking hydraulic shears to bite through the magnets and destroy their magnetic force.
The patient looks - unsurprisingly - incredibly tense and pained throughout the terrifying operation, though he does manage to remain quite calm for someone with a giant steel crushing device operating in their nether region.
Afterwards, a medical examination confirmed that the man somehow escaped without any major injury, only suffering minor skin damage.
Magnetic therapy is a form of alternative medicine that purports to use magnetic fields to manipulate blood flow and offer pain relief.
Some Chinese social media users suggested that this man's unfortunate experience indicates that people should "stay away from Chinese medicine", while others were perplexed as to why he would risk putting magnets near such a sensitive body part to begin with.