What it's like to fly right into Hurricane Matthew (VIDEO)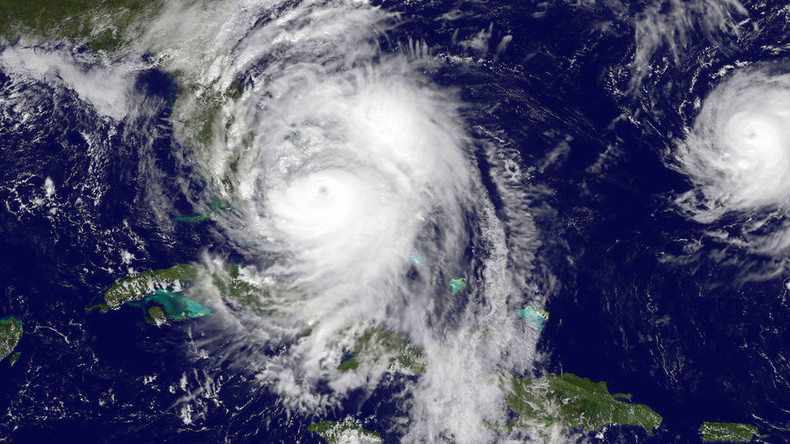 Ever wondered what it's like to fly through a hurricane? Well wonder no more because one pilot and his crew have filmed just such an experience - and it's as terrifying as you'd imagine.
A National Oceanic and Atmospheric Administration (NOAA) crew filmed Captain Tim Gallagher as he broke through the wall of the tumultuous storm and right into its 'eye' - the eerily calm area at its center.
LIVE UPDATES: Hurricane Matthew reaches US coast
As the plane reaches the eye, the plane-rocking turbulence suddenly dissipates.
Gallagher remained calm as the aircraft shook violently while he negotiated his way through the hurricane as the storm approached Florida.
READ MORE: Hurricane Matthew: Satellite images show 'monstrous' storm bound for US (PHOTOS, VIDEOS)
"The crew just returned from a very turbulent flight into the powerful #HurricaneMatthew on WP-3D Orion #NOAA43. Take a first hand look at the flight through the eyewall and into the eye of the storm," wrote the agency on their Facebook page.
Gallagher and his crew, aka the 'Hurricane Hunters', are no strangers to turbulent flights and have been monitoring Matthew from the air to provide updated forecasts for the National Hurricane Center.
Hurricane Matthew is set to become the strongest storm to hit the east coast of the US in more than 20 years.
The category-3 storm so far killed at least 572 people in Haiti as it passed through the Caribbean this week, and arrived along the southeastern coast of the US early Friday.