Blue Origin blasts emergency crew capsule skyward in project milestone (VIDEO)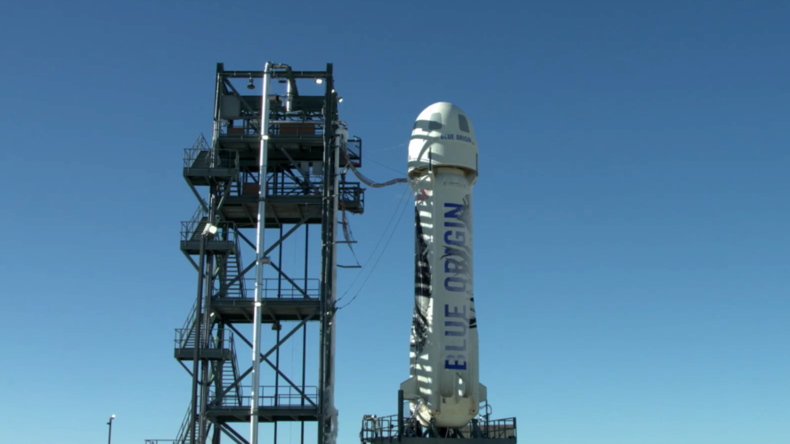 Blue Origin, the private spaceflight company run by Amazon founder Jeff Bezos, has successfully performed the first airborne test of its New Shepard rocket's emergency escape system.
New Shepard, named after the first American in space Alan Shepard, consists of a rocket booster and a crew capsule - an emergency escape system should anything endanger the rocket's crew.
Blue Origin had tested the escape system multiple times on the ground, however Bezos said that Wednesday's test was its toughest trial yet. After a fiery take off the capsule and the booster separated thousands of meters in the air, both later returning to the ground undamaged.
New Shepard launched from Blue Origin's test range in west Texas at 11:36 a.m. local time on Wednesday.
Less than a minute into the flight the vehicle had already climbed to an altitude of around 5,000 meters when controllers signalled for the crew capsule, which was unmanned for the test, to trigger the built-in escape system.
Dramatic footage shows the moment the capsule blasted itself hundreds of feet clear of the booster.
The capsule released its giant parachutes and floated back to Earth at a speed of about 5kph. It gently touched down on the desert floor at 11.41 a.m.
The booster continued on its way to space before plummeting back towards the ground and making its own touchdown about three minutes after the capsule.
NASA were quick to congratulate Blue Origin on the successful demonstration and it's another stepping stone along the company's journey towards building reusable rockets to bring people to space.
This successful landing was something of a surprise as engineers were not sure whether the booster would be able to handle its fiery separation from the capsule.
"This test will probably destroy the booster. The booster was never designed to survive an in-flight escape," Bezos wrote in a blog post last month.
However, the booster finished the test heavily singed but largely unscathed and it's now set for a peaceful retirement.
"If the booster does manage to survive this flight – its fifth – we will in fact reward it for its service with a retirement party and put it in a museum," Bezos wrote.