Passengers vent fury after being weighed by Hawaiian Airlines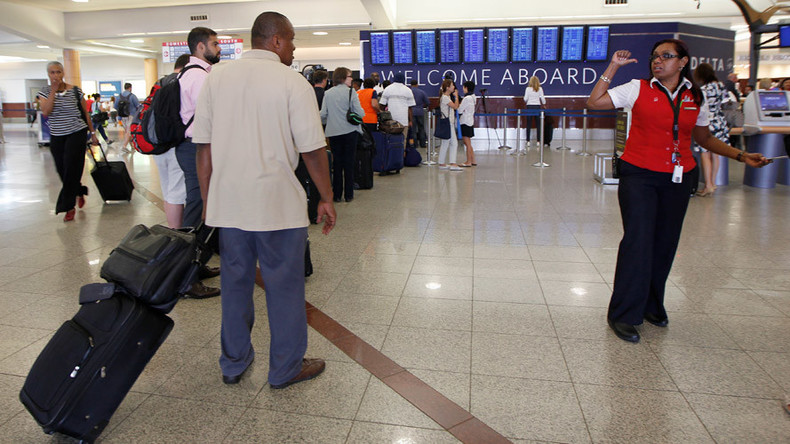 Two American Samoan businessmen filed complaints with the US Department of Transportation after they were weighed before boarding a flight from American Samoa to Honolulu.
Hawaiian Airlines recently conducted a "one-time, six-month survey" to learn more about the distribution of weight within the main cabin of their planes as part of a fuel review.
The move came after the airline discovered fuel burn on flights to and from American Samoa's capital, Pago Pago, "was consistently much higher than projected, indicating that our weight assumptions were inaccurate."
One of the businessmen at the center of the complaint, Avamua Dave Haleck, says the rule discriminates as it only applies to flights going to American Samoa. "Hawaiian is saying that it is a safety issue," he said. "So have we been flying unsafe for all these years?"
The airline says the Boeing 767's have to be boarded in a way so as to evenly distribute the weight on board.
"During this timeframe [of the survey] only, all passengers along with their carry-on luggage were to be weighed. The survey results confirmed that our aircraft cabin weight was heavier than projected," an airline spokesperson confirmed.
"This requires us to manage the distribution of weight across each row in our cabin and we have elected to do so by making sure that one seat in each row is either empty or occupied by a traveler under the age of 13."
The airline has denied that specifically chosen passengers are weighed prior to being allocated a seat.
"This is not true...the decision to assign seats at the airport was made because that is the most efficient way to manage weight distribution," the spokesperson continued. "This allows us to make sure that families with children are seated together."
The other man to launch a complaint over his experience prior to boarding the same flight received an email response from the Aviation Consumer Protection Division (USDOT).
Daniel King was informed: "Based on the information you have provided, it does not appear that your complaint falls under one of the Department's rules," the email read, insisting airlines do not have to allocate seats in advance.
"Hawaiian's new policy of not pre-assigning seats for flights to and from Pago Pago applies to all passengers, which is not discriminatory."
Hawaiian Airlines are required by law to issue detailed responses to the men's complaints within 60 days.
American Samoa had the highest obesity rate in the world based on CIA figures from 2007 and 2008. The high rates have been attributed to much of the population possessing a gene that increases the risk of obesity.
In 2013, Samoa Air – the national carrier for the neighboring Independent State of Samoa – was the first airline to charge passengers according to weight. Passengers had to declare their personal weight and had to pay one Samoan tala ($0.40) per kilo, including luggage.