Govt adviser among Australians arrested for stripping to Speedos at Malaysian Grand Prix (VIDEOS)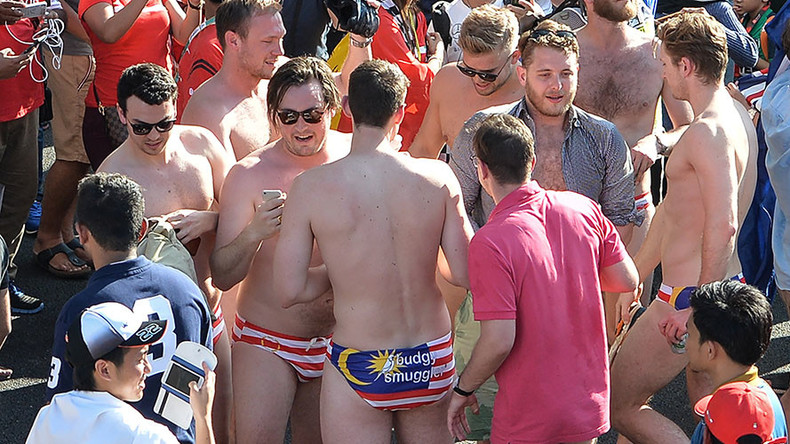 Stripping down to flag-themed swimwear and drinking beer from a shoe is apparently unacceptable at a Formula One Grand Prix – especially if you work in politics. Such behavior landed an Australian government adviser and his eight friends in handcuffs.
It must have seemed like a good idea to Jack Walker, an adviser to Australian Defense Industry Minister Chris Pyne. After all, he and his friends were caught up in celebration after fellow Aussie Daniel Ricciardo won the Malaysian F1 Grand Prix on Sunday.
They excitedly shouted "Aussie Aussie Aussie, oi oi oi" for several minutes, and wrapped themselves in Australian flags, the Sydney Morning Herald reported.
But it wasn't long before those flags came off, and they stripped down to their 'budgy smuggler' briefs – which bore the Malaysian flag – and drank beer from shoes, moments after Ricciardo drank champagne out of a shoe following his win.
The men were allegedly – and unsurprisingly – intoxicated when the incident took place.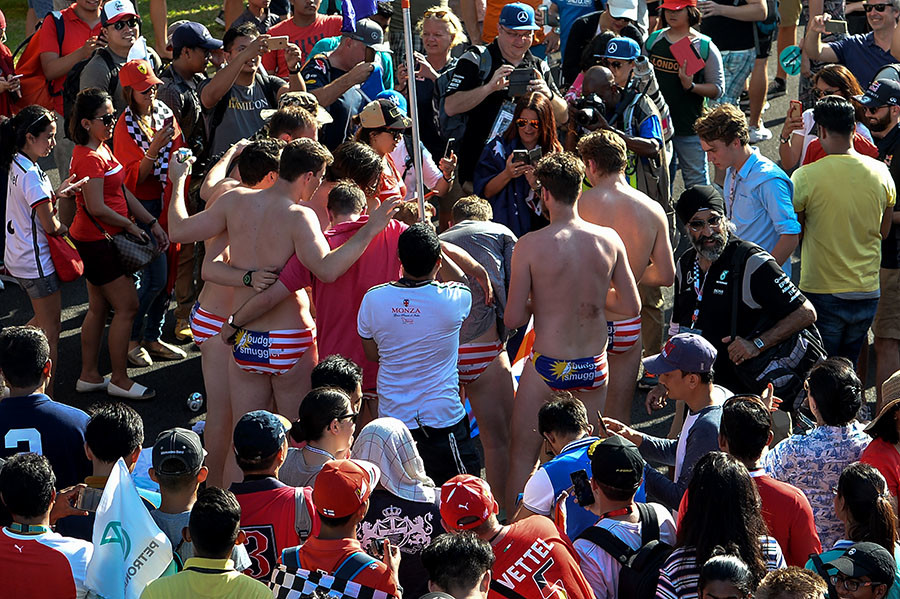 But Walker and his buddies are likely regretting their decision in hindsight, as they were arrested and are being investigated for "intentional insult with intent to provoke a breach of peace" and public indecency, AP quoted district police chief Abdul Aziz Ali as saying.
Aziz said prosecutors will decide on Thursday whether the men will be charged. They face up to six months in jail, a fine, or both if found guilty.
Razlan Razali, the chief executive officer of the Sepang International Circuit, where the Grand Prix took place , said the men should be "locked up, [place under] investigation and action taken against them."
He called their actions "stupid," claiming the men had "disrespected" the majority Muslim country's cultural sensitivities.
Pyne's office said the matter is being "handled appropriately" by the Australian High Commissioner in Malaysia.
"Until we have a clearer picture of the process at hand, it would be unwise to comment further," a spokesperson for Pyne's office said.
Australia's Department of Foreign Affairs and Trade is providing consular assistance to the men.