'Pedophile hunters' film moment they capture would-be child abuser (VIDEO)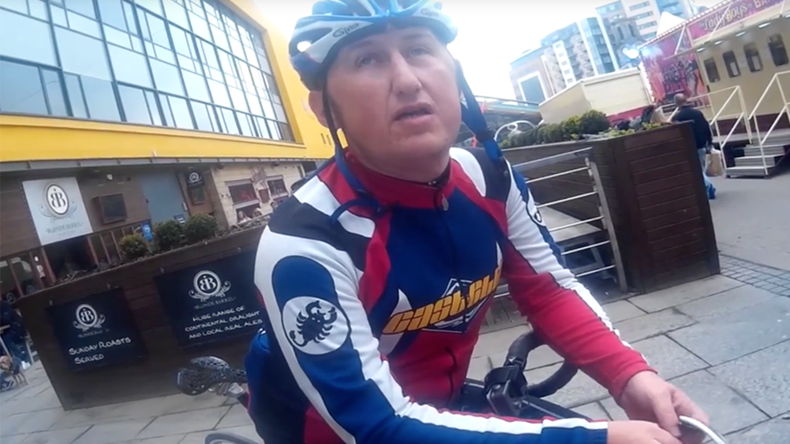 A vigilante group of 'pedophile hunters' in England have filmed the moment they ensnared a would-be child abuser attempting to meet up with a fictitious 13-year-old girl he had been grooming online.
Simon Bagley, 42, was given a 12-month suspended jail sentence by Newcastle Crown Court and placed on the sex offenders' register for five years.
Members of child safety group Dark Justice posed as Charlotte, 13, and struck up an online relationship with Bagley on social networking site hi5.
A series of text messages were then exchanged in which Bagley asked the girl, "Would you like me to be your first boyfriend?" and "Would you like [me] to take your virginity?"
When asked by those posing as Charlotte if he would be happy to be her boyfriend despite her being "only 13," Bagley replied: "If it would be fine with you."
He arranged to meet with her at Times Square in Newcastle and was confronted by members of the group as he dismounted his bicycle. Bagley was then quoted some of the lines he used to groom the girl in his text messages and shown screenshots of what he had sent.
Two men from Dark Justice appear to be present at the confrontation, with Bagley apparently dazed and dumbfounded in front of the camera.
One of them asks: "You've come to meet a 13-year-old girl for sex?" The culprit, however, can manage only the confused response of, "Why would I come on my bike?"
Two police officers then arrive on the scene and listen as members of Dark Justice repeat excerpts from his text conversations with Charlotte. Bagley, whose own lawyer labelled him "pathetic and vulnerable," later claimed he had set up the meeting to warn the girl about the danger of online predators.
Judge Paul Sloan QC said in his sentencing of Bagley: "You wanted pictures of her in her school uniform. You went to meet the girl at Times Square and were shocked when you were confronted by members of Dark Justice."
"You then told police that you were only there to teach Charlotte about dangers, something I simply don't accept," the judge told the court. "If this was more than an attempt then you would be given an immediate custodial sentence."
You can share this story on social media: