Grin & bear it: Stomach-churning aftermath of savage grizzly attack breaks internet (VIDEO)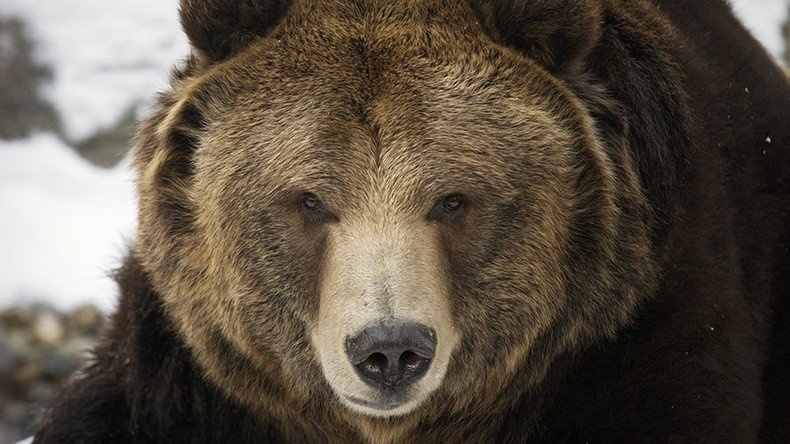 Leonardo DiCaprio can hand his Oscar for 'The Revenant' to a Montana man who posted a video online documenting injuries sustained after being attacked by a bear - twice. Todd Orr's bloody ordeal has been viewed over 16 million times in less than a day.
Covered in blood and with severe gouges, Orr calmly address the camera in the video posted to Facebook. "Life sucks in bear country" he says, before describing his injuries. "I think my arm's broke, but my legs are good, my internal organs are good, eyes are good."
Orr posted on Facebook that he was scouting for elk when the attack happened. Knowing he was in bear country he "hollered out 'hey bear' about every 30 seconds so as to not surprise any bears along the trail."
The bear must not have understood English though as a grizzly with two cubs charged at him. "I sprayed the sh*t out of her with bear spray," he said, but the spray failed to deter the bear who smashed him to the ground.
"She was on top of me biting my arms, shoulders and backpack. The force of each bite was like a sledge hammer with teeth," he said. "She would stop for a few seconds and then bite again."
The attack ended after a couple of minutes according to Orr, who managed to start moving himself back to his truck, roughly three miles away.
After a few minutes the bear struck again, with Orr sure he wouldn't survive a second mauling. "I thought this was the end," Orr said in his post. "She would eventually hit an artery in my neck and I would bleed out in the trail... But I knew that moving would trigger more bites so I laid motionless hoping it would end."
End it did and miraculously he was still able to move himself, eventually reaching his truck and driving himself to the hospital. Despite his injuries and severe shock Orr said he even managed to fasten his seatbelt.
Orr escaped with some pretty serious war scars, including a five-inch (12.5cm) gash along the side of his head, but it's not enough to keep him out of the elk scouting business for too long.
"Not my best day, but I'm alive," Orr said.
You can share this story on social media: