'Mega Swing': Parachuters take playground ride above the clouds (VIDEO)
Published time: 30 Sep, 2016 20:57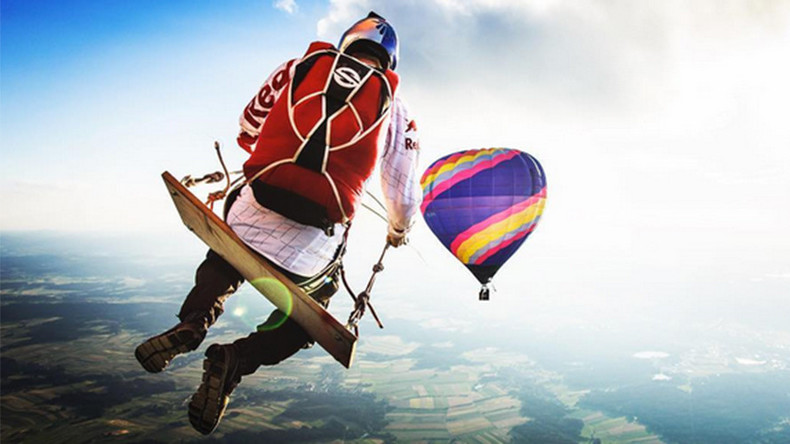 Four daredevil skydivers have taken their favourite playground ride to the skies by fashioning a "mega swing" between two moving hot air balloons.
Armed with a 125 metre length of rope, a wooden seat and head mounted GoPro cameras, the thrillseekers' stunt is a white knuckle watch.
Red Bull Austria helped with the stunt which saw skydivers Marco Waltenspiel, Georg Lettner, Marco Furst, and Dominic Roithmair leap from a balloon 1,800 metres above the ground.
Footage show how the daredevils swing at great speed from one balloon's wicker basket towards the next.
The incredible feat is perhaps the realisation of every kid's dream to go higher on the playground swings.
"It's the dream of everyone," Roithmair told Red Bull.
"To swing higher and higher, and finally jump off and fly. If you're in an airplane or helicopter, you always have that noise around you. Here you only hear from the burning.
He added: "Even the rocking is very special. You hear only the wind at the end of the pendulum, it's actually very quiet."
The swing was not without its risks, however, as the balloons had to be precise distances apart for the stunt to work properly.
"We were initially all a little skeptical about whether it would work at all," Waltenspiel, one of the parachuters explained. "But it was just perfect in the end."