Disgruntled Apple customer smashes up store (VIDEO)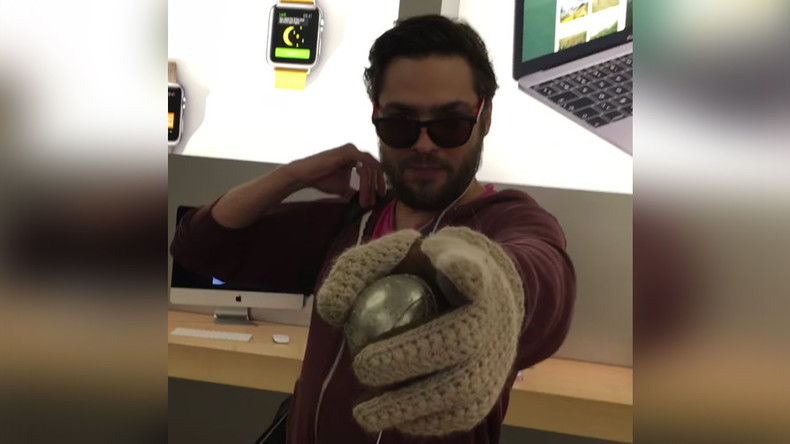 One VERY unhappy Apple customer vented his frustration with the tech company's customer service by destroying dozens of phone and computer products in a French Apple store.
While being both eerily calm and extremely aggressive, the man unleashed his anger by smashing smartphones and laptops with a steel ball, used in the French game Petanque and notoriously "very heavy", according to TheNextWeb.
The crazy scene went down in an Apple store in the Golden Fleece area of Dijon, France, and caused tens of thousands of euros in damage, France Bleu reports.
The customer reportedly verbally abused Apple employees throughout the attack, criticizing the poor customer support he said he'd received over a repayment problem, reports 20 Minutes.
READ MORE: iMessage, but who reads? Apple logs message contacts and location
The man repeatedly undocks iPhones and iPods, laying them on the counter and smashing them with a metal ball before turning his attention to various laptops and computers.
Clearly not a spur-of-the moment attack, the customer came equipped with a glove to protect his smashing hand as customers and employees looked on in disbelief and awaited the arrival of security.
READ MORE: Apple lodges patent for a paper bag called… 'Bag' (PHOTO)
Once he's outside the store the unnamed man's bizarre behavior continues and he attempts to escape from security. The man was eventually arrested and taken into custody at the Central Dijon Police Station and an investigation is ongoing, reports Lejsl.com.