Facing the music: Surgeon who danced over patient during op could be prosecuted (VIDEO)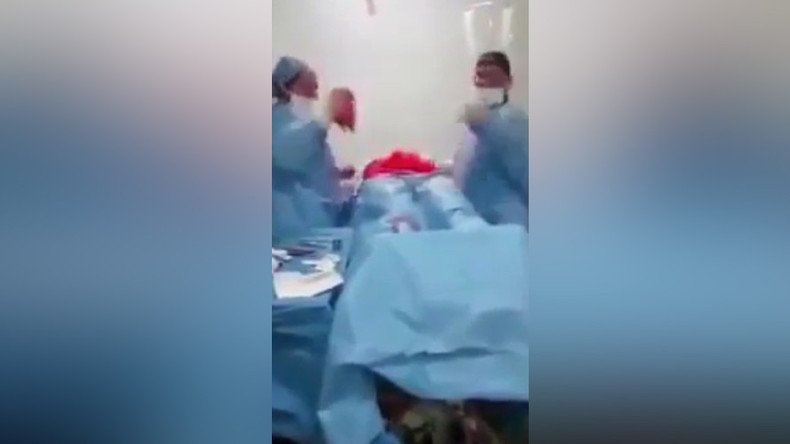 A video of a plastic surgeon and his scrub nurse dancing while performing a medical procedure in Medellín, Colombia has been released online by a city councilor calling for the pair to be penalized.
The footage shows the surgeon and nurse, identified as David Majana and Angelica Mejia, busting some dance moves to a Bruno Mars track while a patient lies unconscious on their surgical table.
It also shows the nurse waving a piece of the patient's skin around and the doctor holding on to the patient and dancing with the static body during the enthusiastic performance.
Medellin city councilor Bernardo Alejandro Guerra said he was given the footage by a concerned whistleblower who said "that man has to pay, that is an abuse".
Guerra claimed previous patients of Majana have begun criminal proceedings against the surgeon. He also said a number of complaints have been lodged with the Attorney General's Office, including one concerning the death of a 42-year-old patient earlier this year.
He told PubliMetro that the actions of the two health professionals show a lack of ethics and respect for patients.
One of the surgeon's former patients Carmen Calderon came forward after seeing the video to share her experience. She had undergone a tummy tuck and breast augmentation but some days later experienced complications and had to go to hospital. She is now in the process of taking court action against Majana.
Some online commenters, however, have defended Majana, questioning why people are so outraged and pointing out that at least the doctor is enjoying his work.
Others turned the table on Guerra and accused him of being opportunistic.
You can share this story on social media: