Like a giant: Teleport & trample through US cities with VR headset game (VIDEO)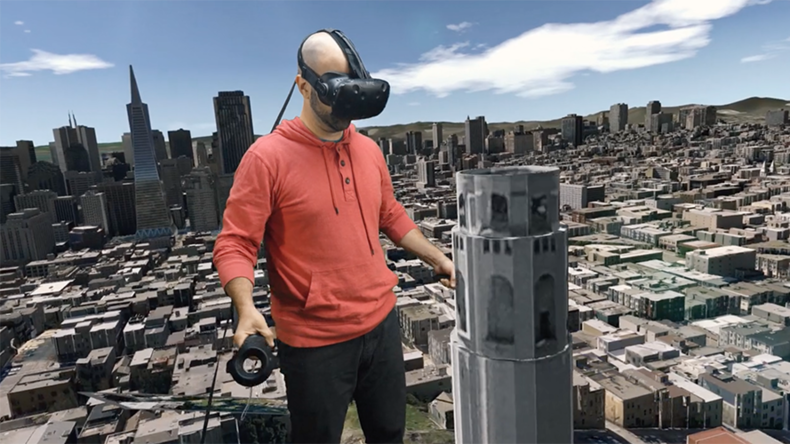 People will soon be able to tower over skyscrapers in three major US cities as if they were the Marshmallow Man, the fictional marketing mascot that terrorized New York City in 'Ghostbusters', thanks to a Silicon Valley tech studio.
The City VR game will give people a giant's perspective of the cities.
The unique experience is all made possible thanks to virtual reality headsets and 3D mapping like Google Earth.
Developed by creatives Amber Garage, City VR "is an immersive virtual reality experience that allows you to discover new perspectives from which to look upon the world we live," its creators say.
"Every street and address matches its real-world equivalent. It enables you to travel through the streets like a giant, observe architecture from up on high."
Users are also said to be able to shrink down to street level and even take touristy snapshots of their surroundings.
While video of the VR app shows people touring densely populated areas like the monster Godzilla, the game's landscape cannot be destroyed by a misplaced step.
Released on September 26, the early access version of the game only features San Francisco. However, the City VR website reveals plans to include New York and Chicago.
A description of the experience encourages people to stand on top of San Francisco's 49-floor Transamerica Pyramid, teleport around the city and play with the concept of time.
"Watch the sunset behind the Golden Gate Bridge… use time-lapse to make it rise again over the Bay Bridge."
You can share this story on social media: