Massive fire engulfs oil tanker in Gulf of Mexico (VIDEOS, PHOTOS)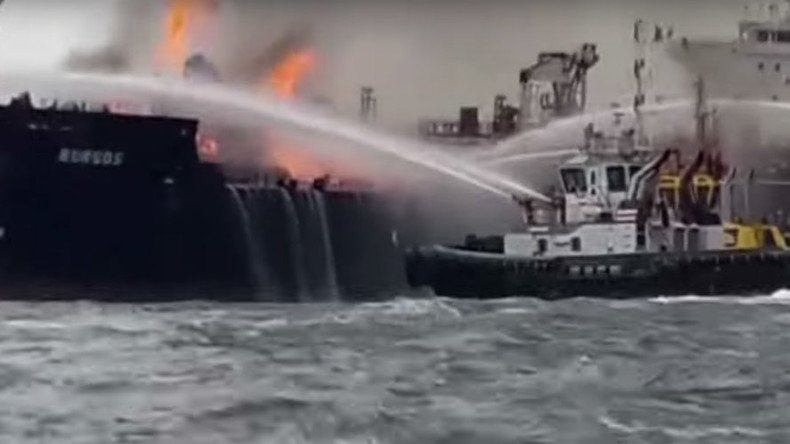 A massive fire that erupted on an oil tanker in the Gulf of Mexico forced 31 crew members to evacuate the state owned Pemex vessel, with emergency services continuing with efforts to extinguish the blaze.
The fire broke out on the Burgos tanker on Saturday as a result of an explosion, the cause of which is unknown, and engulfed the vessel, sending dark clouds of smoke into the air.
The tanker was carrying 80,000 barrels of diesel, 71,000 of gasoline and 16,000 barrels of desulfurized gasoline, according to Mexico's communications and transport ministry. It has a capacity to carry 270,000 barrels.
Burgos was about eight miles off the coast of Boca del Rio in Veracruz, where it remains, according to Marine Traffic.
Pemex tweeted the crew had all made it back to shore on Saturday and maintains that there is no safety risk to the local population.
Mexican navy ships arrived at the scene and barriers were placed around the vessel in case an oil spill occurred.
According to reports, some fuel spilled into the sea but there is no risk of contamination "because they are light fuels."
"It's not crude, it's not going to the bottom of the sea, it stays on the surface,"said Juan Ignacio Fernandez Carvajal of the Veracruz Port Authority.
Fernandez Caravajal said they were working to control the fire on Saturday night, and the tanker could still sink. "But it's what we're trying to avoid. We're attacking that risk," he said.
According to Informador, control operations to quash such fires can take up to 48 hours and will determine whether the ship can be towed.
The company has suffered bad luck recently, with budget cuts and losses affecting revenue. In April, more than 30 died in a blast at a petrochemical plant owned by Pemex and another company in Veracruz.
In 2013, 37 died in a blast at the company's Mexico City headquarters.
You can share this story on social media: