Here's a glimpse inside Satanic Temple's new headquarters in Salem (VIDEO)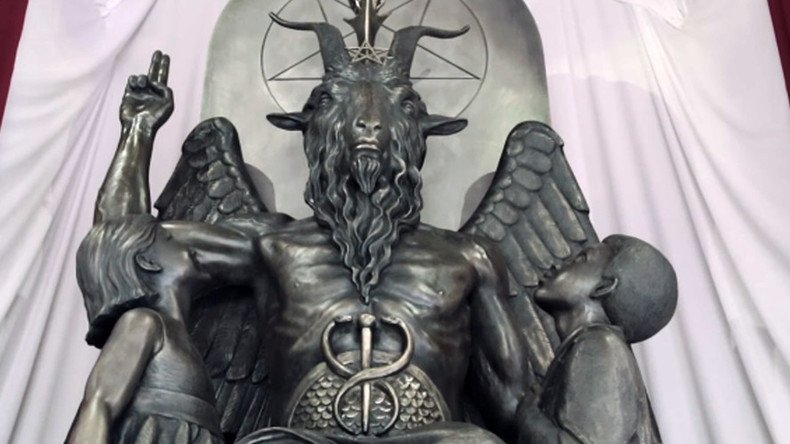 The US based Satanic Temple has opened its new headquarters in an old funeral parlor in Salem, Massachusetts.
Satanic Temple spokesperson Lucien Greaves explained why Salem, famous for its witch trials in the 1690s, was a good fit for a satanist home.
"Salem emerged as an obvious choice to be established as the base for our operations," he said. "In addition to Salem's history and proximity to the intellectual hub of Boston, the people we have spoken to have been incredible friendly and supportive."
The Satanic Temple claims it is the world's largest satanic organization. The recognized religious organization has several chapters across the US, with its largest in Detroit, Michigan.
The new headquarters opened on Friday and will also serve as an art gallery with a permanent exhibition entitled "Satanic Panic," dealing with witch hunts. It is located less than a mile from Gallows Hill, where 14 women and 6 men were executed for alleged witchcraft during the Salem witch trials of the 1690's.
"The irony that a town which once executed people because of alleged ties to Satan will now be hosting the headquarters of the world's largest satanic organization is not lost on us," Greaves said. "The fact that we have a home in Salem is a testament to the progressive mentality of the people there, and the local government's support for plurality."
The group plan to hold meetings and lectures in the Victorian building which once served as a funeral home.
"Salem is quaint, and quite lovely, and we intend to contribute to the cultural climate while maintaining the community's high standards." Greaves explained.
Inside the headquarters is a seven and a half foot tall bronze statue of Baphomet, the goat headed idol associated with Satanism.
The group made headlines in August after it launched "After School Satan" clubs for children in a number of cities across the US, including Los Angeles, Salt Lake City and Washington DC. The clubs were launched in response to a Supreme Court ruling which allowed evangelical religious programs to operate in schools.
"Fundamentalist Christian organizations are trying to turn public schools into indoctrination camps for children," the group explained. "With millions in funding and a team of aggressive lawyers, they have been successfully eroding the separation of Church and State."
The Satanic Temple does not worship Satan but, according to its website, believers practice empathy, compassion and believe in individual sovereignty and the rejection of tyrannical authority.
WATCH MORE:
You can share this story on social media: