European bison 'Sauron' poisoned, decapitated at reserve in Spain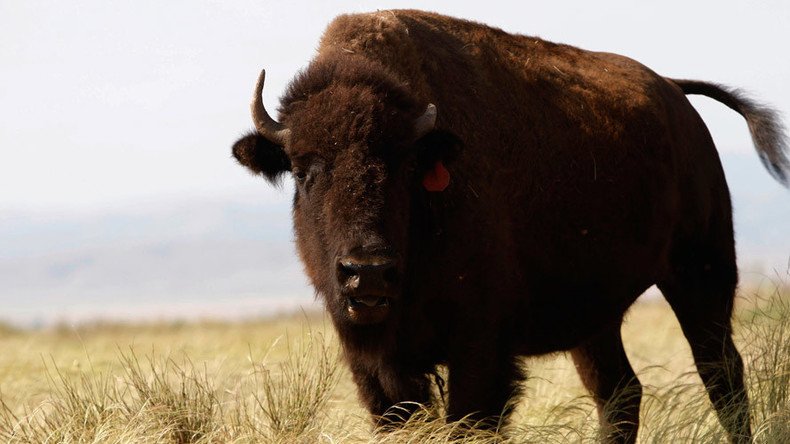 An investigation has been launched after the macabre discovery of two decapitated European bison on a nature reserve in Spain.
The headless body the bison herd's dominant male, named Sauron,was discovered on the Valdeserrillas reserve in the eastern Valencia region last Friday.
On Thursday, less than a week later, a second decapitated bison was found on the private reserve close to where Sauron's body was located.
Seprona, the environmental crime unit of Spain's Civil Guard, say the animals were "crudely" decapitated after their deaths. Authorities believe the beasts' food or water were deliberately poisoned.
According to reports in The Guardian, the animals had been displaying unusual behavioural patterns in the days leading up the first gruesome discovery.
They had wandered away from their usual grazing areas and were acting in a nervous manner. When Sauron's carcass was found, three other bison were missing,including the bull who was found dead on Thursday.
Park staff believe that the herd had been poisoned and Sauron had succumbed first because, as the alpha male, he would have eaten or drank more of the contaminated food or water.
Rodolfo Navarro, a spokesman for the reserve, said "he was called Sauron after the Lord of the Rings character because he was the biggest and the most powerful. "He was a beautiful animal that weighed nearly 800kg [1,764lb]. He was sort of the symbol of the reserve."
Another worker in the reserve, Carlos Alamo, payed tribute to Sauron on Facebook.
Staff of the reserve spent days searching the 900 acre site for the three missing animals while the rest of the herd suffered from diarrhoea, believed to be as a result of the poisoning.
Neither of the dead animals had bullet wounds, and Navarro told AFP that he thought the bison may have been poisoned and decapitated by hunters who wanted to sell their heads or keep them as trophies.
Europe's largest mammal has been hunted to near extinction and remains vulnerable. A a conservation program has been trying to re-establish herds across Europe.
Also, the lack of genetic diversity makes them prone to disease, reducing their chances of surviving in the wild, where they are also vulnerable to predators, and as appears in this case, humans too.
Sauron's herd arrived at the Valdeserrillas reserve less than a year ago and Spanish Police have not ruled out a deliberate attack against the reservation as a motivation for the killings.
The owners of the reserve plan to introduce female bison later this year to allow the herd to reproduce.
You can share this story on social media: