Internet vents fury at 'foul' cartoon equating gay marriage activists with Nazis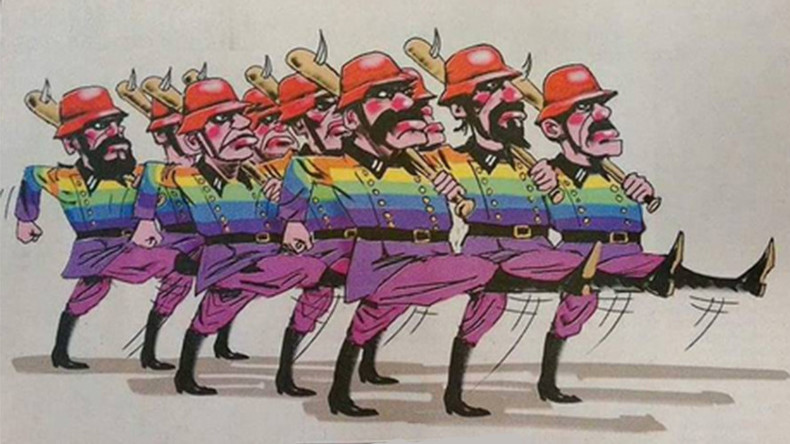 Australian cartoonist Bill Leak sparked an angry social media backlash after his latest controversial cartoon drew parallels between same-sex marriage advocates and Nazi soldiers.
The picture of marching male soldiers dressed in rainbow-colored Nazi SS uniforms and armed with spiked bats appeared in the national newspaper The Australian.
Captioned "WAFFEN-SSM", the cartoon equates marriage equality campaigners with Hitler's army.
The Waffen-SS were an armed wing of Hitler's SS, who were responsible for running both the extermination and concentration camps in Nazi Germany, with the 'SSM' in the cartoon instead standing for 'same-sex marriage'.
"We are merely trying to have a civil conversation about a sensitive subject and are being silenced by the rabid and censorious opposition,"argues Leak. "To that end, here is a drawing of you as a Nazi."
Gay men and lesbian women were among the millions who perished in the Second World War after being singled out for persecution. Hundreds of thousands of people believed to gay were rounded up by Nazi soldiers and collaborators because of their sexuality, then sent to concentration camps and murdered. Some were subjected to medical testing at the camps.
Leak is no stranger to controversy. Last August he lambasted "sanctimonious Tweety Birds" who deemed his illustration of an Aboriginal Australian father neglecting his children as "racist".
The Australian has previously defended the cartoonist's work, saying: "Bill Leak's confronting and insightful cartoons force people to examine the core issues in a way that sometimes reporting and analysis can fail to do."
Same-sex marriages are illegal in Australia and the ruling Liberal Party have been warming to the idea for a plebiscite on the issue. Leak's latest cartoon has ignited the debate over a possible national referendum on same-sex marriage next year.
A recent poll suggests a vote on the issue is likely to pass, as 57 per cent of Australians surveyed said they were in favor of gay marriages.
You can share this story on social media: