Cockpit camera captures moment of stomach-churning runway collision (VIDEO)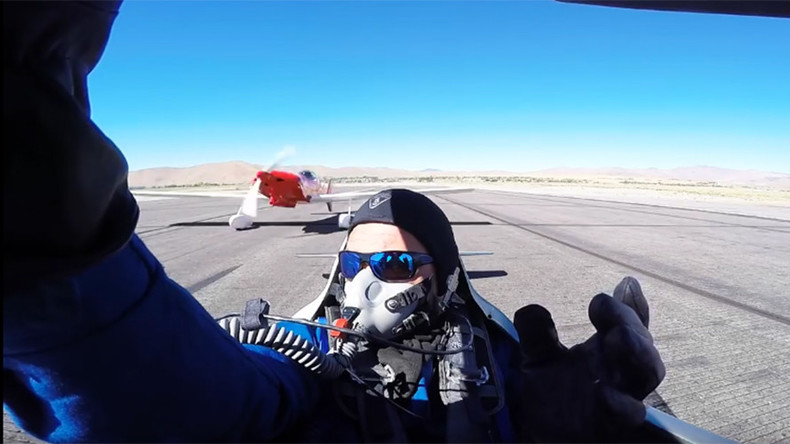 Heartstopping footage from the cockpit of a Formula 1 Air Race plane shows the terrifying moment another aircraft struck it from behind after the pilot had turned off his engine and signalled he was out of the race.
Thom Richard was in his race plane at the start of the final 'gold' heat at the Reno Air Races in Nevada when he realised his engine "was not running well enough for flight."
He shut off the engine and signalled to the flagmen to halt the start of the race, however the message was not received and - much to Richard's horror - racers zoomed past him.
One aircraft collided with his plane, severely damaging the aircraft and injuring Richard's raised hand.
The video shows the flagmen immediately run over to check if Richard is ok and help him out of the plane as the pilot insists he gave the appropriate signal.
"The impact was violent and loud… [it] spun me around nearly 180 degrees, like a teacup ride at warp eight," a shaken Richard wrote in a YouTube post after the dramatic incident.
The other pilot was not injured, but both planes sustained damage. The right wing of Richard's plane Hot Stuff was badly impacted in the collision: "The propeller sliced three evenly spaced gashes about mid span of my right wing, about a foot apart. The right landing gear sheared the wing off just short of the right wingtip."
Richard wrote in a statement he considered himself lucky to be alive following the accident, but it wouldn't deter him from competing in the future.
"Another 4ft to the left and I would have been minced meat. Literally dodging a bullet. A busted-up hand is a small price to pay. I'll take it. It'll heal. Though it is difficult to type one-handed."
"I've used up another one of my nine lives, but why would you have nine unless you plan to use them?… We live, learn and race on," he concluded.