4 spectacular tidal bores rivalling China's 'Silver Dragon' wave (VIDEO)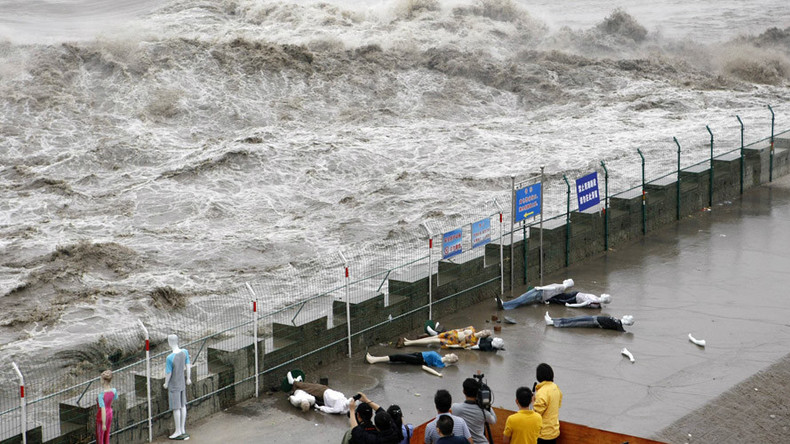 Residents of Haining city, China are being warned to be wary of higher waves while viewing a strange water phenomenon which rushes up the Qiantang River every year.
The Qiantang River 'bore', one of the largest of its kind, brings a series of large tidal waves up the east Chinese waterway against the current.
The spectacular phenomenon - known locally as the Silver Dragon - regularly attracts thousands of intrigued spectators in September.
Footage of the tidal bore shows torrents of water gushing up the Qiantang River at great speed, before crashing onto piers with thousands of cheering onlookers lining the banks.
So far, an estimated 100,000 people, comprising tourists and locals, have flocked to the banks of the river to witness the spectacle which began on September 17, report CCTV News.
However, due to recent extreme typhoon weather, local officials are warning people to expect higher and stronger waves than normal this year.
The poor weather has reportedly increased the size of the breaking waves by at least 0.5 meters, according to Xing Yun, of the Qiantang River Administration.
"Affected by recent typhoons, the waves have grown stronger, so visitors should keep their distance to avoid potential risks," Yun told China Daily.
Tidal bores are controlled by the gravitational pull of the moon, but the rare phenomenon is primarily seen at rivers with a low tide and narrow, flat outlets to the sea. Any increased water surge traveling across a bay from the sea has no other path than to journey up the river, funneling waters at high pace against the current.
While the Qiantang River provides one of the largest tidal bores in the world, the always spectacular - sometimes terrifying - phenomenon is a feature of other rivers in Europe, South America and Asia.