'1 shot – 1 note': Russian sharpshooter performs Beethoven using pistols (VIDEO)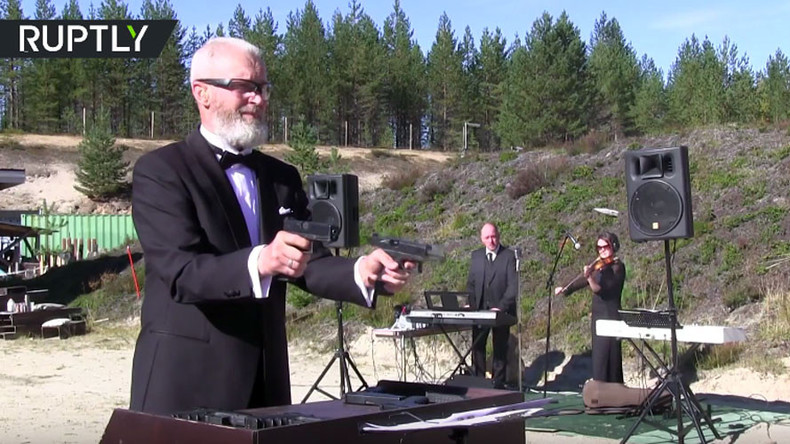 A Russian sharpshooter has proven his skills are going way beyond just precisely hitting targets, as he performed various musical pieces, including by Beethoven, using two Glock pistols, a video has shown.
The footage was released by the International Practical Shooting Confederation of Russia (IPSC), where its chief, Vitaly Kruchin, has proven to be a true music maestro.
In the video Kruchin is simultaneously firing two Glock pistols at the metal plates painted black and white, resembling piano keys. By hitting the respective plates he produced the sound needed.
The video is entitled "Glockophone" with the description saying "One shot – one note." During his performance, the IPSC chief was accompanied by a violin, a synthesizer and two vocalists.
And the team has shown it can roll out a whole arsenal of musical pieces, ranging from a renowned classic masterpiece to some traditional Russian music. The first part was that of Ludwig van Beethoven's "Ode to Joy," followed by a lighter piece – a kids' song called "Old MacDonald Had a Farm."
And in the final piece, Kruchin even opted for a Russian criminal "Murka" song. The performance by the gun virtuoso caused a cheerful reaction among people on social media.
Some even promised to add the musical pieces into their playlist, while others noted the professional level of performance.
"I'm sure Beethoven would feel honored," a tweet said.
You can share this story on social media: