Huge sinkhole leaks waste into Florida drinking water, concealed for weeks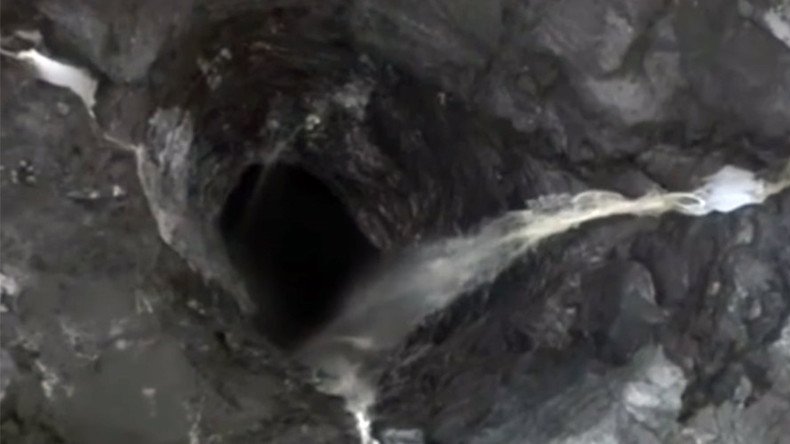 A large sinkhole has caused contaminated wastewater to flow into an aquifer in Polk County, Florida in the US.
The sinkhole appeared at the Mosaic phosphate fertilizer plant about three weeks ago, and 215 million gallons of water containing sulphate, sodium and gypsum, which contains low levels of radiation have drained into the aquifer since then, the Tampa Bay Times reports.
The aquifer is the state's main source of drinking water.
The 45 foot wide sinkhole appeared under a "gypsum stack" of Mosaic waste material, which is created during the process of producing fertilizer from phosphate.
Mosaic claims there is no risk. "Groundwater moves very slowly," David Jellerson, Mosaic's senior director for environmental and phosphate projects said. "There's absolutely nobody at risk."
200+ million gallons of 'slightly radioactive' water leaked from the fertilizer plant Mosaic in central Florida & opened a massive sinkhole

— Tantric Commie Sex (@bosnianglilly) September 18, 2016
The company says it started to divert the water as soon as the alarm was raised. The company became aware of the the sinkhole in late August, but kept it from the public as they said there was no risk. It did inform the Florida Department of Environmental Protection(DEP), but the DEP did not tell the public either.
"The department's focus at this time is on the oversight of Mosaic's first-response efforts in order to safeguard public health and the environment," DEP spokesperson Dee Ann Miller told the Tampa Bay Times.
Mosaic, the world's largest phosphate mining company,says it has been draining the contaminated water from the aquifer.
Locals say Mosaic - who only last year paid $2 billion in fines over its hazardous waste pollution - is not doing enough. A number people demonstrated against the company as news of the contamination emerged. "It's going into our water supply," Jessica Broadbent told WFLA. "It's affecting our children. Our children's children, eventually, our community. It affects our environment."
"They say they have it fixed or are working on fixing the problem, but where's the proof," Lee Cole told WTSP.
Local Mashell Hooker said he noticed a change in the drinking water about two weeks ago. "We noticed a strong like rotten egg smell," he said. "And we've never had sulfur in our water. We've never noticed a smell like that before."
You can share this story on social media: