Canadian teacher suspended after asking pupil to lick her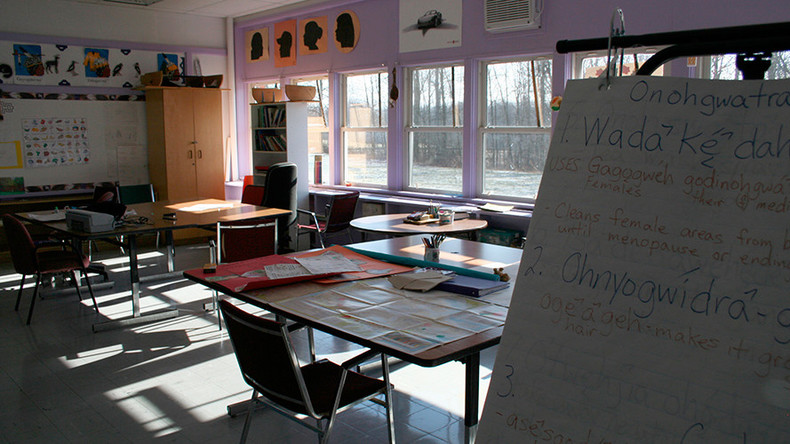 A teacher in Ontario, Canada has been suspended after reportedly asking a student "why don't you lick me where I fart?" during class.
Jennifer Elizabeth Green-Johnson, an English teacher in Dunnville Secondary School, will have to explain her rather "unique" brand of class management before the Ontario College of Teachers disciplinary committee on September 23. However, this doesn't seem to be new territory for her.
It emerged that Johnson made the remark after a complaint had been lodged among other incidents of swearing and vulgarity in the classroom.
Generally in charge of 15 to 18 year olds, Johnson is facing two separate charges for her classroom conduct.
The first relates to a March 2015 incident in which she slapped one of her male students before telling him to "grow some balls."
The second relates to calling one student a "bloody pedophile" while telling a female student that she "looked like a frumpy old lady," reported the Toronto Sun.
Treated as separate cases, this will be Green-Johnson's third and fourth appearances in front of the Ontario College of Teachers, who have the power to fire her.
The board have previously found her guilty of professional misconduct, including last January when she was suspended for 30 days and had to complete a course regarding "appropriate boundaries with students and appropriate classroom management," according to the Toronto Star.
It emerged that after finding two students play wrestling outside her classroom, with one student on the other's back, Johnson said, "so you like it from behind."
Johnson has also been found guilty of insulting a number of her students by calling them stupid, idiots and gay, as well as telling one student to "stop bitching and sit down," and at one point, accidentally hitting a student in the groin.