Super Typhoon Meranti: World's strongest cyclone batters Taiwan en route to China (PHOTOS, VIDEOS)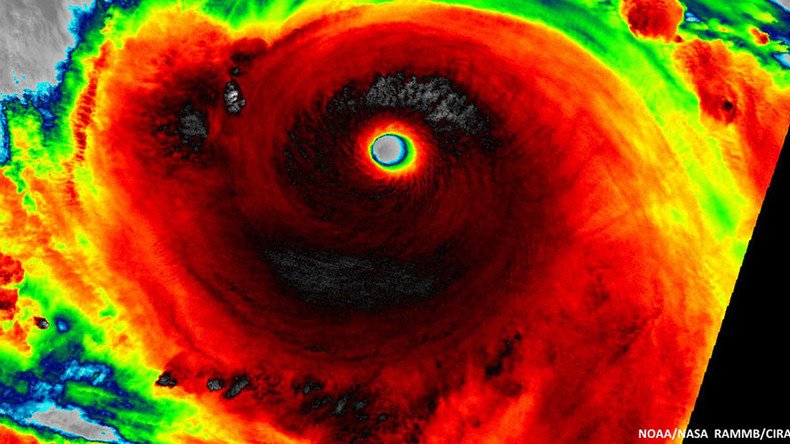 Hundreds of people were evacuated and thousands of homes lost power across south and east Taiwan as Super Typhoon Meranti battered the island on Wednesday.
A spokesperson for Taiwan's Central Weather Bureau said the Category 5 storm is the strongest in the world so far this year. The bureau also warned that several cities in the south and east of the island are at risk of torrential rain and flooding.
Meanwhile, China is bracing itself for the super typhoon's impact along the country's southeastern coast with scores of canceled flights and locals advised to stay indoors as Meranti approaches.
More than 500,000 homes in Taiwan lost power as Meranti struck with maximum winds of nearly 230kph. Close to 1,500 people have been evacuated from at-risk areas across the south and east, with about half of those people taking refuge in temporary shelters.
Most domestic flights have been canceled and international flights have also been affected.
Despite the dire conditions, some islanders risked venturing outdoors.
The tropical storm intensified into a typhoon as it approached the Philippines Sunday. The tiny island of Itbayat, home to fewer than 3,000 people, bore the brunt Meranti as it passed through but the extent of the damage is not yet clear.
As it moved towards Taiwan it simply grew in strength.
Taiwan will face the worst of Meranti on Wednesday and early Thursday before it pushes on towards China.
The super typhoon is expected to hit southern China by Thursday with forecasters predicting it to make landfall in the province of Guangdong or Fujian. If it strikes Guangdong, the province's meteorologic station says it will be the strongest typhoon to hit there in 47 years, Xinhua reports.
The approaching storm has already brought waves measuring up to 17 meters in height, People's Daily China reports. Residents in the storm's path have been advised to stay indoors and ships ordered to return to harbor. Dozens of flights in and out of Fujian province have been canceled.
The Global Disaster Alert and Coordination System has warned the super typhoon could have a "high humanitarian impact" given the intense wind speeds involved and the vulnerability of the populations in the areas affected.
You can share this story on social media: